Greased lightning
22nd March 2012
Page 47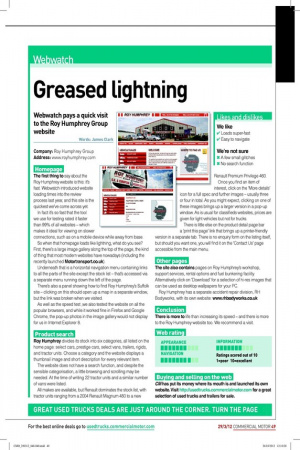 Page 47, 22nd March 2012 —
Greased lightning
Close
Webwatch pays a quick visit to the Roy Humphrey Group website
Words: James Clark
Company: Roy Humphrey Group Address: www.royhumphrey.com
Homepage
The first thing to say about the
Roy Humphrey website is this: it's fast. Webwatch introduced website loading times into the review process last year, and this site is the quickest we've come across yet.
In fact it's so fast that the tool we use for testing rated it faster than 99% of all websites – which makes it ideal for viewing on slower connections, such as on a mobile device while away from base.
So when that homepage loads like lightning, what do you see?
First, there's a large image gallery along the top of the page, the kind of thing that most modern websites have nowadays (including the
recently launched Motortransport.co.uk).
Underneath that is a horizontal navigation menu containing links to all the parts of the site except the stock list – that's accessed via a separate menu running down the left of the page.
There's also a panel showing how to find Roy Humphrey's Suffolk site – clicking on this should open up a map in a separate window, but the link was broken when we visited.
As well as the speed test ,we also tested the website on all the popular browsers, and while it worked fine in Firefox and Google Chrome, the pop-up photos in the image gallery would not display for us in Internet Explorer 8.
Product search
Roy Humphrey divides its stock into six categories, all listed on the home page: select cars, prestige cars, select vans, trailers, rigids, and tractor units. Choose a category and the website displays a thumbnail image and short description for every relevant item.
The website does not have a search function, and despite the sensible categorisation, a little browsing and scrolling may be needed. At the time of writing 22 tractor units and a similar number of vans were listed.
All makes are available, but Renault dominates the stock list, with tractor units ranging from a 2004 Renault Magnum 480 to a new Renault Premium Privilege 460. Once you find an item of interest, click on the 'More details' icon for a full spec and further images – usually three or four in total. As you might expect, clicking on one of these images brings up a larger version in a pop-up window. As is usual for classifieds websites, prices are given for light vehicles but not for trucks.
There is little else on the product detail page bar a 'print this page' link that brings up a printer-friendly version in a separate tab. There is no enquiry form on the listing itself, but should you want one, you will find it on the 'Contact Us' page accessible from the main menu.
Other pages
The site also contains pages on Roy Humphrey's workshop, support services, rental options and fuel bunkering facility. Alternatively click on 'Download' for a selection of hi-res images that can be used as desktop wallpapers for your PC.
Roy Humphrey has a separate accident repair division, RH Bodyworks, with its own website: www.rhbodyworks.co.uk
Conclusion
There is more to life than increasing its speed – and there is more to the Roy Humphrey website too. We recommend a visit.
Buying and selling on the web
CM has put its money where its mouth is and launched its own website. Visit http://usedtrucks.commercialmotor.com for a great selection of used trucks and trailers for sale.