A breathalyser could soon be an additional part of a
22nd March 2012
Page 4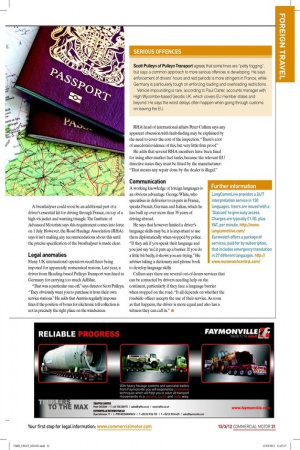 Page 4, 22nd March 2012 —
A breathalyser could soon be an additional part of a
Close
driver's essential kit for driving through France, on top of a high-vis jacket and warning triangle. The Institute of Advanced Motorists says this requirement comes into force on 1 July. However, the Road Haulage Association (RHA) says it isn't making any recommendations about this until the precise speciication of the breathalyser is made clear.
Legal anomalies
Many UK international operators recall ines being imposed for apparently nonsensical reasons. Last year, a driver from Reading-based Pulleyn Transport was ined in Germany for carrying too much AdBlue.
"That was a particular one-off," says director Scott Pulleyn. "They obviously want you to purchase it from their own service stations." He adds that Austria regularly imposes ines if the position of boxes for electronic toll collection is not in precisely the right place on the windscreen. RHA head of international affairs Peter Cullum says any apparent obsession with fault-inding may be explained by the need to cover the cost of the inspection. "There's a lot of anecdotal evidence of this, but very little irm proof." He adds that several RHA members have been ined for using after-market fuel tanks, because the relevant EU directive states they must be itted by the manufacturer: "That means any repair done by the dealer is illegal."
Communication
A working knowledge of foreign languages is an obvious advantage. George White, who specialises in deliveries to ex-pats in France, speaks French, German and Italian, which he has built up over more than 35 years of driving abroad.
He says that however limited a driver's language skills may be, it is important to use them diplomatically when stopped by police. "If they ask if you speak their language and you just say 'no', it puts up a barrier. If you do a little bit badly, it shows you are trying." He advises taking a dictionary and phrase book to develop language skills.
Cullum says there are several out-of-hours services that can be contacted by drivers needing help on the continent, particularly if they face a language barrier when stopped on the road. "It all depends on whether the roadside oficer accepts the use of their service. As soon as that happens, the driver is more equal and also has a witness they can call in." ■