Setting the gold standard
22nd March 2012
Page 24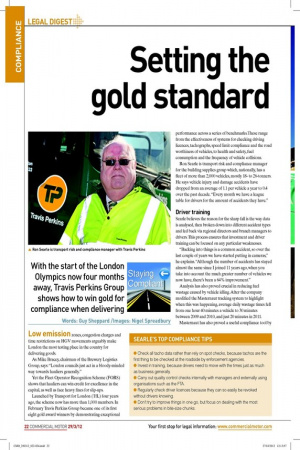 Page 24, 22nd March 2012 —
Setting the gold standard
Close
With the start of the London Olympics now four months away, Travis Perkins Group shows how to win gold for compliance when delivering
Words: Guy Sheppard /Images: Nigel Spreadbury Low emission zones, congestion charges and time restrictions on HGV movements arguably make London the most testing place in the country for delivering goods.
As Mike Bracey, chairman of the Brewery Logistics Group, says: "London councils just act in a bloody-minded way towards hauliers generally." Yet the Fleet Operator Recognition Scheme (FORS) shows that hauliers can win credit for excellence in the capital, as well as face heavy ines for slip-ups.
Launched by Transport for London (TfL) four years ago, the scheme now has more than 1,000 members. In February Travis Perkins Group became one of its irst eight gold award winners by demonstrating exceptional performance across a series of benchmarks.These range from the effectiveness of systems for checking driving licences, tachographs, speed limit compliance and the road worthiness of vehicles, to health and safety, fuel consumption and the frequency of vehicle collisions.
Ron Searle is transport risk and compliance manager for the building supplies group which, nationally, has a leet of more than 2,000 vehicles, mostly 18to 26-tonners. He says vehicle injury and damage accidents have dropped from an average of 1.1 per vehicle a year to 0.4 over the past decade. "Every month we have a league table for drivers for the amount of accidents they have."
Driver training
Searle believes the reason for the sharp fall is the way data is analysed, then broken down into different accident types and fed back via regional directors and branch managers to drivers. This process ensures that investment and driver training can be focused on any particular weaknesses.
"Backing into things is a common accident, so over the last couple of years we have started putting in cameras," he explains. "Although the number of accidents has stayed almost the same since I joined 11 years ago, when you take into account the much greater number of vehicles we now have, there's been a 64% improvement." Analysis has also proved crucial in reducing fuel wastage caused by vehicle idling. After the company modiied the Masternaut tracking system to highlight when this was happening, average daily wastage times fell from one hour 40 minutes a vehicle to 30 minutes between 2009 and 2010, and just 20 minutes in 2011.
Masternaut has also proved a useful compliance tool by