Rules can hinder growth
22nd March 2012
Page 21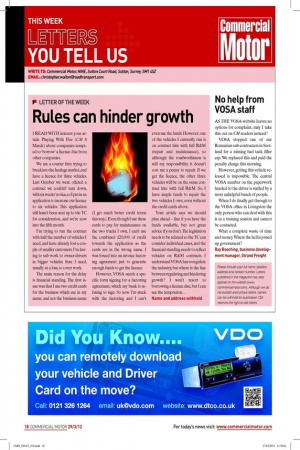 Page 21, 22nd March 2012 —
Rules can hinder growth
Close
I READ WITH interest your article Playing With Fire (CM 8 March) about companies tempted to 'borrow' a licence disc from other companies.
We are a courier irm trying to break into the haulage market, and have a licence for three vehicles. Last October we were offered a contract we couldn't turn down, with six weeks' notice, so I put in an application to increase our licence to six vehicles. This application still hasn't been sent up to the TC for consideration, and we're now into the ifth month.
I'm trying to run the contract with half the number of vehicles I need, and have already lost a couple of smaller customers. I'm having to sub work to owner-drivers in bigger vehicles than I need, usually at a loss, to cover work.
The main reason for the delay is inancial standing. The irst issue was that I use two credit cards for the business which are in my name, and not the business name (I get much better credit terms this way). Even though I use these cards to pay for maintenance on the two trucks I own, I can't use the combined £20,000 of credit towards the application as the cards are in the wrong name. I was forced into an invoice factoring agreement just to generate enough funds to get the licence.
However, VOSA needs a speciic form signing for a factoring agreement, which my bank is refusing to sign. So now I'm stuck with the factoring and I can't even use the funds. However, one of the vehicles I currently run is on contract hire with full R&M (repair and maintenance), so although the roadworthiness is still my responsibility it doesn't cost me a penny to repair. If we get the licence, the other three vehicles will be on the same contract hire with full R&M. So, I have ample funds to repair the two vehicles I own, even without the credit cards above.
Your article says we should plan ahead – ine if you have the funds available, but not great advice if you don't. The legislation needs to be relaxed so the TC can consider individual cases, and the inancial standing needs to relect vehicles on R&M contracts. I understand VOSA has to regulate the industry, but where is the line between regulating and hindering growth? I won't resort to borrowing a licence disc, but I can see the temptation...
Name and address withheld