The FFUK campaign can't stop now – support it
22nd March 2012
Page 18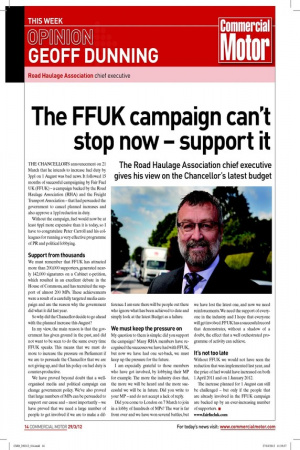 Page 18, 22nd March 2012 —
The FFUK campaign can't stop now – support it
Close
The Road Haulage Association chief executive gives his view on the Chancellor's latest budget
THE CHANCELLOR'S announcement on 21 March that he intends to increase fuel duty by 3ppl on 1 August was bad news. It followed 15 months of successful campaigning by Fair Fuel UK (FFUK) – a campaign backed by the Road Haulage Association (RHA) and the Freight Transport Association – that had persuaded the government to cancel planned increases and also approve a 1ppl reduction in duty.
Without the campaign, fuel would now be at least 6ppl more expensive than it is today, so I have to congratulate Peter Carroll and his colleagues for running a very effective programme of PR and political lobbying.
Support from thousands
We must remember that FFUK has attracted more than 200,000 supporters, generated nearly 142,000 signatures on a Cabinet e-petition, which resulted in an excellent debate in the House of Commons, and has recruited the support of almost 200 MPs. These achievements were a result of a carefully targeted media campaign and are the reason why the government did what it did last year.
So why did the Chancellor decide to go ahead with the planned increase this August?
In my view, the main reason is that the government has given ground in the past, and did not want to be seen to do the same every time FFUK speaks. This means that we must do more to increase the pressure on Parliament if we are to persuade the Chancellor that we are not giving up, and that his policy on fuel duty is counter-productive.
We have proved beyond doubt that a wellorganised media and political campaign can change government policy. We've also proved that large numbers of MPs can be persuaded to support our cause and – most importantly – we have proved that we need a large number of people to get involved if we are to make a dif ference. I am sure there will be people out there who ignore what has been achieved to date and simply look at the latest Budget as a failure.
We must keep the pressure on
My question to them is simple: did you support the campaign? Many RHA members have recognised the successes we have had with FFUK, but now we have had one set-back, we must keep up the pressure for the future.
I am especially grateful to those members who have got involved, by lobbying their MP for example. The more the industry does that, the more we will be heard and the more successful we will be in future. Did you write to your MP – and do not accept a lack of reply.
Did you come to London on 7 March to join in a lobby of hundreds of MPs? The war is far from over and we have won several battles, but we have lost the latest one, and now we need reinforcements. We need the support of everyone in the industry and I hope that everyone will get involved. FFUK has a successful record that demonstrates, without a shadow of a doubt, the effect that a well orchestrated programme of activity can achieve.
It's not too late
Without FFUK we would not have seen the reduction that was implemented last year, and the price of fuel would have increased on both 1 April 2011 and on 1 January 2012.
The increase planned for 1 August can still be challenged – but only if the people that are already involved in the FFUK campaign are backed up by an ever-increasing number of supporters. ■
www.fairfueluk.com