GENEVA CALLIN
22nd March 1957
Page 46
Page 47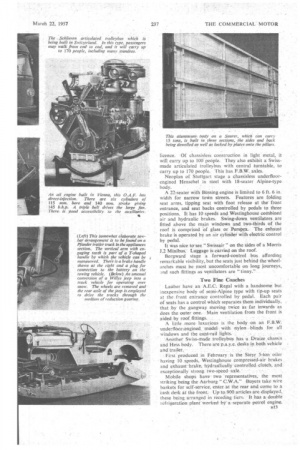 Page 48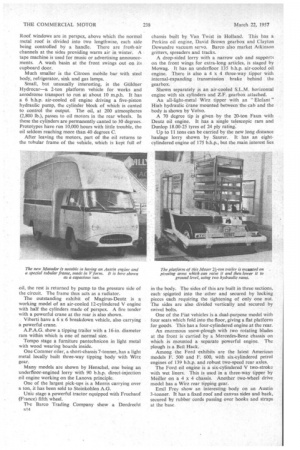 Page 49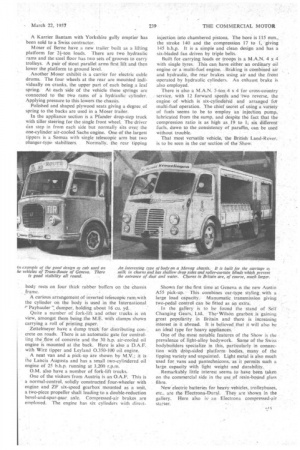 Page 46, 22nd March 1957 —
GENEVA CALLIN
Close
• By G G. Mackenzie Junner, IVI.I.Mrech.E., M.I.R.T.E. COMING so soon after the Amsterdam Show, many of the commercial-vehicle exhibits, and particularly the newer models, have already been dealt with in this journal. Despite this, however, some novelties are still to be found.
The main hall for the commercial models had been considerably extended, but now includes the passenger models removed from the former coachbuilding section. A large hall is also devoted mainly to heavy appliances. earth-moving equipment, fork trucks, mobile crane's, and tractors. Consequently, there are comparatively few of the fine examples of passenger coachwork formerly exhibited, but a notable increase in trolleybuses and of trailers for these. In all, however, it makes a most representative show.
Regret was expressed by many that some of the most important British makes are absent; however, pride of place was taken by an A.E.C. with Gangloff body. shown by Van Twist. This 36-seater has, at the rear, a wellequipped bar ,and kitchen with electric heating, and at the other side a toilet also provided with an electric razor plug point. The kitchen equipment includes refrigerator, bottle cooler, and seat-call indicator. At the back of each seat is a reading light and folding table. A radio telephone provides long-distance communication and microphone connections are along the roof.
Other fittings include a tape recorder and television set on a tubular stand. This vehicle is to tour Portugal after the Show.
Welded-platform Bus
Vying with this but in "chassis " form, is a new Saurer bus. The platform part of this has sheet steel members 15-in, deep with squared flanges, and on to this will be built a light-alloy and glasspol body, giving great resistance to torsion and flexion. The 160 b.h.p. oil engine is horizontal and it can be raised to 200 b.h.p. by adding a compressor. The maximum weight permitted for this is approximately 15 tons.
Bussing also have an underfloor-engined bus chassis butwith a more normal girder frame and the radiator aft of the front axle, whereas in the Saurer, it and the fan, are almost at the front, • Schlieren show a Setra prototype bus with rear engine which is to be made in Switzerland under Kdssbohrer licence. Of chassisless construction in light metal, it will carry up to 100 people. They also exhibit a Swissmade articulated trolleybus with central turntable, to carry up to 170 people. This has F.B.W. axles.
Neoplan of Stuttgart stage a chassisless underfloorengined Henschel in steel with 18-seater Alpine-type body.
A 22-seater with Bussing engine is limited to 6 ft. 6 in. width for narrow town streets. Features are folding seat arms, tipping seat with foot release at the front entrance, and seat backs controlled by pedals to three positions. It has 10 speeds and Westinghouse combined air and hydraulic brakes. Swing-down ventilators are fitted above the main windows and two-thirds of the roof is comprised of glass or Perspex. The exhaust brake is operated by an air cylinder with electric control by pedal.
It was nice to see "Swissair" on the sides of a Morris 12 Minibus, Luggage is tarried on the roof.
Borgward stage a forward-control bus affording remarkable visibility, but the seats just behind the wheelarches must be most uncomfortable on long journeys, and such fittings as ventilators are "tinny-"
Two Fine Coaches Lauber have an A.E.C. -Regal with a handsome but tnexpensive body of semi-Alpine type with tip-up seats at the front entrance controlled by pedal. Each pair of. seats has a control which separates them individually, that by the .gangway moving twice as far inwards as does the. outer one. Main ventilation from the front is aided by roof fittings.
A little more luxurious is the body -on an F.B.W. underflOor-erigined model with nylon blinds for all windows and the cant-rail lights. .
Another Swiss-made trolleybus has -a Draize chassis and Hess body. There are p.a.y.e. desks in both vehicle and trailer.
.First produced in February is the Steyr 5-ton oiler having 10 speeds, Westinghouse compressed-air brakes and exhaust-brake, .hYdratilically•controlled clutch, and
exceptionally strong two-speed.-axle. " •
Mobile shops have two representatives. the most striking' being the Aarburg " C.W.A." Buyers take wire baskets for self-service, enter at the rear and come to a Cash desk at the front. Up to 900 articles are displayed, these being arranged in receding tiers: It has a double refrigerationplantworked. by a-separate -petrol engine.
Roof windows are in perspex, above which the normal metal roof is divided into two lengthwise, each side being controlled by a handle. There are fresh-air channels at the sides providing warm air in winter. A tape machine is used for music or advertising announcements. A wash basin at the front swings out on its cupboard door.
Much smaller is the Citroen mobile bar with steel body, refrigerator, sink and gas lamps.
Small, but unusually interesting, is the Giildner Hydrocar—a 2-ton platform vehicle for works and aerodrome transport to run at about 10 m.p.h. It has a 6 b.h.p. air-cooled oil engine driving a five-piston hydraulic pump, the cylinder block of which is canted to control the output. The oil, at 200 atmospheres (2,800 lb.), passes to oil motors in the rear wheels. In these the cylinders are permanently canted to 30 degrees. Prototypes have run 10,900 hours with little trouble, the oil seldom reaching more than 40 degrees C.
After leaving the motors, part of the oil returns to the tubular frame of the vehicle, which is kept full of oil, the rest is returned by pump to the pressure side of the circuit. The frame thus acts as a radiator.
The outstanding exhibit of Magirus-Deutz is a working model of an air-cooled 12-cylindered V engine with half the cylinders made of perspex. A fire tender with a powerful crane at the rear is also shown.
Viberti have a 6 x 6 breakdown vehicle, also carrying a powerful crane.
A.P.A.G. show a tipping trailer with a 16-in, diameter ram within which is one of normal size.
Tempo stage a furniture pantechnicon in light metal with wood wearing boards inside.
One Commer oiler, a short-chassis 7-tonner, has a light metal locally built three-way tipping body with Wirz gear.
Many models are shown by Henschel, one being an underfloor-engined lorry with 90 b.h.p. direct-injection oil engine working on the Lanova principle.
One of the largest pick-ups is a Morris carrying over a ton, it has been sold to Steinkohlen A.G.
Unite stage a powerful tractor equipped with Fruehauf (France) fifth wheel.
The Barco Trading Company show a Dordrecht n14 chassis built by Van Twist in Holland. This has a Perkins oil engine, David Brown gearbox and Clayton Dewandre vacuum servo. Barco also market Atkinson gritters, spreaders and tracks.
A drop-sided lorry with a narrow cab and supports on the front wings for extra-long articles, is staged by Mowag. It has an underfloor 135 b.h.p. air-cooled oil engine. There is also a 4 x 4 three-way tipper with internal-expanding transmission brake behind the gearbox.
Shown separately is an air-cooled S.L.M. horizontal engine with six cylinders and Z.F. gearbox attached.
An all-light-metal Wirz tipper with an " Elefant " Hiab hydraulic crane mounted between the cab and the body is shown by Volvo.
A 70 degree tip is given by the 20-ton Faun with Deutz oil engine. It has a single telescopic ram and Dunlop 18.00-25 tyres of 24 ply rating.
Up to 11 Ions can be carried by the new long distance haulage lorry shown by Saurer. It has an eightcylindered engine of 175 b.h.p., but the main interest lies in the body. The sides of this are built in three sections, each spigoted into the other and secured by locking pieces each requiring the tightening of only one nut. The sides are also divided vertically and secured by swivel bolts.
One of the Fiat vehicles is a dual-purpose model with four seats which fold into the floor, giving a flat platform for goods. This has a four-cylindered engine at the rear.
An enormous snow-plough with two rotating blades at the front is carried by a Mercedes-Benz chassis on which is mounted a separate powerful engine. The plough is a Beil Hack.
Among the Ford exhibits are the latest American models F. 500 and F. 600, with six-cylindered petrol engines of 139 b.h.p. and robust two-speed rear axles.
The Ford oil engine is a six-cylindered V two-stroke with wet liners. This is used in a three-way tipper by Meiller on a 4 x 4 chassis. Another two-wheel drive model has a Wirz rear tipping gear.
Emil Frey show an interesting body on an Austin 3-tonner. It has a fixed roof and canvas sides and hack, secured by rubber cords passing over hooks and straps at the base, A Karrier Bantam with Yorkshire gully emptier has been sokl to a Swiss contractor.
Moser of Berne have a new trailer built as a lifting platform for 24-ton loads. There are two hydraulic rams and the steel floor has two sets of grooves to carry trolleys. A pair of stout parallel arms first lift and then lower the platform to ground level.
Another Moser exhibit -is a carrier for electric cable drums. The four wheels at the rear are mounted individually on cranks, the upper part of each being a leaf spring. At each side of the vehicle these springs are connected to the two rams of a hydraulic cylinder. Applying pressure to this lowers the chassis.
Polished and shaped plywood seats giving a degree. of spring to the backs are used in a Moser trailer,
In the appliance section is a Pfander drop-step truck with tiller steering for the single front wheel. The driver can step in from each side but normally sits over the one-cylinder air-cooled Sachs engine. One of the largest tippers is a Soinua with single telescopic arm but two plunger-type stabilizers. Normally, the rear tipping body rests on four thick rubber buffers on the chassis frame. _ A curious arrangement of inverted telescopic ram with the cylinder on the body is used in the International Payhauler ". dumper, holding about 16 cu. yd.
Quite a number of fork-lift and other trucks is on view, amongst them being the M.E. with clamps shown carrying a roll of printing paper.
Zettelmeyer have a dump truck for distributing concrete on roads. There is an automatic gate for controlling the low of concrete and the 30 h.p. air-cooled oil engine is mounted at the back. Here is also a D.A.F. with Wirz tipper and Leyland 0.350-100 oil engine.
A neat van and a pick-up are shown by !W.V.: it isihe Lancia Augusta and has a small two-cylindered oil engine, of 25 b.h.p. running at 3,200 r.p.m.
O.M. also have a number of fork-lift trucks.
One of the visitors from Austria is an 0.A.F. This is a normal-control, solidly constructed four-wheeler with engine and ZF six-speed gearbox mounted as a unit, a two-piece propeller shaft leading to a double-reduction bevel-and-spur-gear axle. Compressed-air brakes are employed. The engine has six cylinders with direct injection into chambered pistons, The bore is 115 mm., the stroke 140 and the compression 17 to 1, giving 145 b.h.p. It is a simple and clean design and has a six-bladed fan driven by triple belts.
Built for carrying loads or troops is a M.A.N. 4 x 4 with single tyres. This can have either an ordinary oil engine or a multi-fuel engine, Braking is combined air and hydraulic, the rear brakes using air and the front operated by hydraulic cylinders. An exhaust brake is also employed.
There is also a M.A.N. 5-ton 4 x 4 for cross-country service, with 12 forward speeds and two reverse, the engine of• which is six-cylindered and arranged lot multi-fuel operation. The chief secret of using a variety of fuels seems to be to employ an injection pump, lubricated from the sump, and despite the fact that the compression ratio is as high as 19 to 1, six different fuels, down to the consistency of paraffin, can be used without trouble.
That most versatile vehicle, the British Land-Rover, is to be seen in the car section of the Show,
Shown for the first time at Geneva is the new Austin A55pick-up. -• This combines car-type styling with a large load capacity. 1Vlanumatic transmission giving two-pedal control can be fitted as an extra.
to the gallery is to be found the stand of Sell' Changing Gears; Ltd. The Wilson gearbox is gaining great popularity in Britain and there is increasing interest in it abroad. It is believed that it will also be an ideal type for heavy appliances.
One of the most notable features of the Show is the prevalence of light-alloy bodywork. Some of the Swiss bodybuilders specialize in this, particularly in connection with drop-sided platform bodies, many of the tipping variety and unpainted. Light metal is also much used for vans and pantechnicons. as it permits such a large capacity with light weight and durability.
Remarkably little interest seems to have been taken on the commercial side in the use of resin-bound glass fibre.
New electric batteries for heavy vehicles, trolleybuses, etc., are the Electrona-Dural. They are shown in the gallery. Here also isan Electrona compressed-air starter.