Pre-war Lteence Lapsed: No New Grant
22nd March 1957
Page 36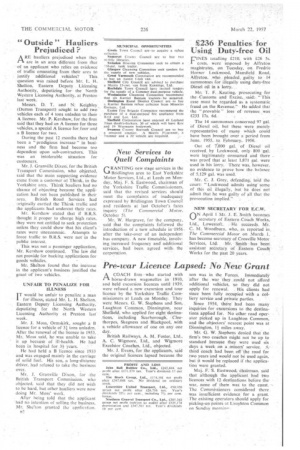 Page 36, 22nd March 1957 —
Pre-war Lteence Lapsed: No New Grant
Close
Keywords :
A COACH firm who started with in. horse-drawn wagonettes in 1910, and held excursion licences until 1939, were refused a new excursion and tour licence by the Yorkshire Traffic Commissioners at Leeds on Monday. They were Messrs. G. W. Stephens and Son, Laughton Common, Dinnington, near Sheffield, who applied for eight destinations, including Scarborough, --Cleethorpes, Skegness and Blackpool, with a vehicle allowance of one on any one day.
British Railways, A. M. Foster, Ltd., A. C. Wigmore, Ltd., and Wigmore Excelsior Coaches, Ltd., objected.
Mr. J. Evans, for the applicants, said the original licences lapsed because the
son was in the Forces. Immediately after the war they could not afford additional vehicles, so they did not apply for renewal. His clients had since been fully occupied with a colliery service and private parties.
Since 1954, there' had been many inquiries for excursions to the destinations applied for. No other road operator picked up in Laughton Common, and the objectors' nearest point was at Dinnington, If miles away.
Mr. G. W. Stephens denied that the firm's two coaches might not be up to standard .because they were used six days a week on a .miners' service. third coach had been off the road for two years and would not be used again, hut it would be replaced if the application were granted.
Maj. F. S. Eastwood, chairman, said that although the applicant had two licences with 12 destinations before the war, none of them was to the coast. The Commissioners considered there was insufficient evidence for a grant. The existing operators should apply for picking-up points at Laughton Common on Sunday. moroina.