Oil Fuel Off Coupons: Plenty of Petrol
22nd March 1957
Page 30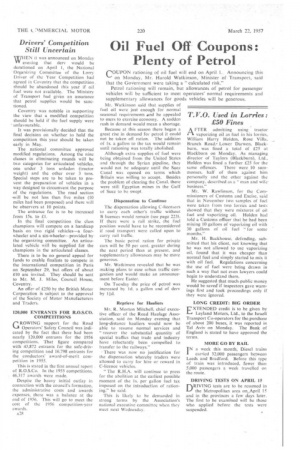 Page 30, 22nd March 1957 —
Oil Fuel Off Coupons: Plenty of Petrol
Close
COUPON rationing of oil fuel will end on April I. Announcing this on Monday, Mr. Harold Watkinson, Minister of Transport, said that the Government were taking a "calculated risk."
Petrol rationing will remain, hut allowances of petrol for passenger vehicles will be sufficient to meet operators' normal requirements and supplementary allowances for goods vehicles will be generous.
Mr. Watkinson said that supplies of fuel oil were just enough for normal seasonal requirements and he appealed to users to exercise economy. A sudden rush in demand would mean a shortage.
Because at this season there began a great rise in demand for petrol it could not be taken off ration. The addition of Is. a gallon to the tax would remain until rationing was totally abolished.
Although extra supplies of fuel were being obtained from the United States and through the Syrian pipeline, they would not be adequate until the Suez Canal was opened on terms which Britain was willing to accept. Besides the problem of clearing the Canal, there were still Egyptian mines in the Gulf of Suez to be swept.
Dispensation to Continue The dispensation allowing C-licensees to carry each other's traffic without B licences would remain (see page 223). If there were a rail strike, the fuel position would have to be reconsidered if road transport were called upon to carry rail traffic.
The basic petrol ration for private cars will be 50 per cent. greater during the next period than at present, and supplementary allowances may be more generous.
Mr. Watkinson revealed that he was making plans to ease urban traffic congestion and would make an announcement before Easter.
On Tuesday the price of petrol' was increased by Id. a gallon and of dery by lid.
Reprieve for Hauliers Mr. R. Morton Mitchell, chief executive officer of the Road Haulage Association, said on Monday evening that long-distance hauliers would now be able to resume normal services and "recover the substantial quantity of special traffics that trade and industry have reluctantly been compelled to transfer to the railways."
There was now no justification for the dispensation whereby traders were allowed to carry for hire or reward in C-licence vehicles.
"The R.H.A. will continue to press for the abolition at the earliest possible moment of the Is. per gallon fuel tax imposed on the introduction of rationing," he said.
This is likely to be demanded in strong terms by the Association's national executive committee when they meet next Wednesday.