One Hears— Of more tankoaromes. Of magnificent progress.
22nd March 1917
Page 3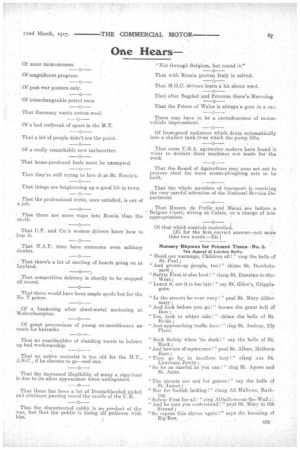 Page 3, 22nd March 1917 —
One Hears— Of more tankoaromes. Of magnificent progress.
Close
Of post-war posters only.
Of interchangeable petrol cans.
That Germany wants cotton-wool.
Of a bad outbreak of spurs in the M.T.
That a lot of people didn't see the point.
Of a really remarkable new carburetter.
That home-produced fuels must be exempted.
That they're still trying to hew it at St. Ermin's. —0 That things are brightening up a good bit in town.
That the professional critic, once satisfied, is out of a job.
That there are more ways into Russia than the north.
That C.P. and Co.'s women drivers know how to hop it.
That N.A.P.. tires have overcome even military doubts.
That there's a, lot of steeling of hearts going on at Leyland.
• 0 , That competitive delivery is shortly to be stopped all round.
• That there would have been ample spuds but for the No. T prices.
• 0 Of a hankering after sheet-metal anchoring at Wolverhampton.
. Of great processions of young ex-munitioners route for barracks. • That no eoachbuilder of standing Wants to bolster up bad workmanship.
That no active Motorist is too old for the MT., A.S.C., if he Chooses to go—and can.
That the increased illegibility of many a signature is due to its alien appearance when undisguised.
• That there has been a lot of Deutschlanded nickel and platinum passing round the inside of the U.K.
That the discontented cabby is no product of the war, but that the public is losing all patience with him. "Not through Belgium, but round it."
That with Russia proven Italy is salved.
That M.G.C. drivers learn a lot about wool.
That after Bagdad and Peronne there's Marcoing.
That the Prince of Wales is always a goer in a car.
There may have to be a recrudescence of motorvehicle impressment.
Of frost-proof radiators which drain automatically into a shallow tank from which the pump lifts.
That some U.S.A. agrimotor makers have found it wiser to declare their machines not Made for the road.
That the. Board of Agriculture may soon set out to procure steel for more steam-ploughing sets to be That the whole question of transport is receiving the very eareful attention of the National Service Depar tment.
That Messrs. de ,Prelle and Masui are before a Belgian Court,sitting at Calais, on a charge of mixappropriation.
Of that which controls controlled.
• [Ri for the first correct answer—not more than two words.—En.] Nursery Rhymes for Present Times—No. 5.
The Appeal of London Bells.
"Heed our warnings, Children all " ring the bells of St. Paul ; "And grown-up People, tool" chime St. Bartholomew ; " Safety First iS also best! " clang St. Dunstan-in-the West ; " Learn it, ere it is too late ! " say St. Giles', Crippla gate.
"In the streets be ever wary !" peal St. Mary Aldermary ; "And look before you go ! " booms the great bell of Bow ; "Yes, look to either side ! " chime the bells of St.
Bride ; "And approaching traffic face ! " ring St. Audrey, Ely Place.
" Seek Safety when 'tis dark ! " say the bells of St Mark ; "And beware of motorcars ! "peal St. Alban, Holborn Bars ; "Theygo by in heedless fury!" cfang out St. Lawrence Jewry ; , " So be as careful as you can Y' " ring St. Agnes and St. Anne.
"The streets are not for games !" say the bells of St. James ; "Nor for foolish larking! " clang All Hallows, Bark ing. " Safety First for all! " ; "And be sure you understand ! "peal St. Mary in the Strand' • , "So repeat this rhyme again !" says the booming of Big'Ben. .