Answers to Queries.
22nd March 1917
Page 17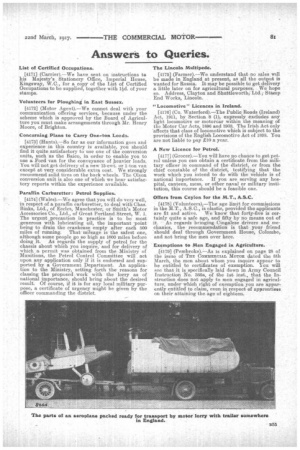 Page 17, 22nd March 1917 —
Answers to Queries.
Close
List of Certified Occupations.
[4171] (Carrier).—We have sent on instructions to his Majesty's Stationery. Office, Imperial House, Kin gsway, W.C., for a copy of the List of Certified Occupations to be supplied, together with lid. of your stamps.
Volunteers for Ploughing in East Sussex.
[4172] (Motor Agent).—We cannot deal with your communication offering services, because under the scheme which is approved by the Board of Agriculture you must make arrangements through Mr. Henry Moore, of Brighton.
Concerning Plans to Carry One-ton Loads.
[4173] (Hants).—So far as our information goes and experience in this country is available, you should find it quite satisfactory to use one of the conversion units, such as the Beim, in order to enable you to use a Ford van for the conveyance of heavier loads. You will not get delivery of a new 15-cwt. or 1-ton van except at very considerable extra cost. We strongly recommend solid tires on the back wheels. The Olson conversion unit is also one of which we hear batisfactory reports within the experience available.
Paraffin Carburetter: Petrol Supplies.
[4174] (Wales).—We agree that you will do very well, in respect of a paraffin carburetter, to deal with Chas. Binks, Ltd., of Eccles, Manchester, or Smith's Motor Accessories Co., Ltd., of Great Portland.Street, W. 1. The urgent ,precaution in practice is to be most generous with lubricating oil, the important -point being to drain the crankcase empty after each 500 miles of running. That mileage is the safest one, although some people go so high as 1000 miles before doing it. As regards the supply of petrol for the chassis about which you inquire, and for delivery of which a, permit was obtained from the Ministry of Munitions, the Petrol Control Committee will act upon any application only if it is endorsed and supported by a Government Department. An application to the Ministry, setting forth the reasons for classing the proposed work with the lorry as of national importance, should bring about the desired result. Of course, if it is for any local military purpose, a certificate of urgency might be given by the officer commanding the district. The Lincoln Multipede.
[41751 (Farmer).---We understand that no sales will be made in England at present, as all the output is wanted for Russia. It may be possible to get delivery a little later on for agricultural purposes. We hope so. Address, Clayton and ShuttIeworth, Ltd,, Stamp End Works, Lincoln.
"Locomotive" Licences in Ireland.
[4176] (Co. Waterford).—The Public Roads (Ireland) Act, 1911, by Section 8 (1), expressly excludes any light locomotive or motorcar within the meaning of the Motor Car Acts, 1896 and 1903. The Irish Act only 'affects that class of locomotive which is subject to the provisions of the English Locomotive Act of 1898. YOU are not liable to pay 210 a year.
A New Licence for Petrol.
[4177] (Grocer).—You will have no chance to get petrol unless you can obtain a certificate from the military officer in command of the district, or from the chief constable of the district, testifying that the work which you intend to do with the vehicle is of national importance. if you are serving any hospital, canteen, mess, or other naval or military institution, this course should be a feasible one.
Offers from Ceylon for the M.T., A.S.C.
[4178] (Volunteers).—The age limit for commissions in the M.T., A.S.C., is elastic, provided the applicants are fit and active. We 'know that forty-five is certainly quite a safe age, and fifty by no means out of it. As regards bringing Cingalese drivers and mechanics, the recommendation is that your friend -should deal through Government House, Colombo, and not bring the men over here.
Exemptions to Men Engaged in Agriculture.
/4179] (Pembroke).-:---As is explained on page 28 of the issue of THE COMMERCIAL MOTOR dated the 8th March, the men about whom you inquire appear to be entitled to certificates of exemption. You will see that it is specifically laid down in Army Council Instruction No. 366a, of the 1st inst., that the Instruction does not apply to men engaged in agriculture, underwhich right of exemption you are apparently entitled to claim, even in respect of apprentices on their attaining the age of eighteen.