Our Despatches from the Front (No. 132).
22nd March 1917
Page 16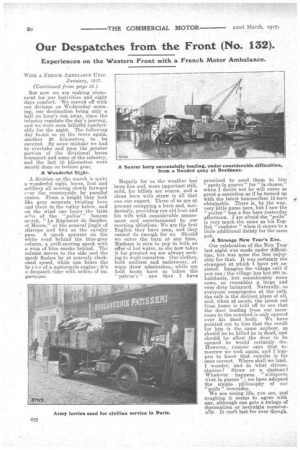 Page 16, 22nd March 1917 —
Our Despatches from the Front (No. 132).
Close
Experiences on the Western Front with a French Motor Ambulance.
WITH A FRENCH L.1.1111313LANCE UNIT.
• ,Thatuary, 1917, (Continued from page 59.) But now we are making atonement for our festivities and eight days CQuifort. We maved off with our division on Wednesday morning, our destination being only a half an hour's run away, since the infantry regulate the day's journey, and we were sG011 billeted, comfortably for the night. The following day foand us on the move again, another 20 kilometres to be covered. By some mistake we had to overtake and pass the greater portion of the divisional horse transport and some of the infantry, and the last 10 kilometres were mostly done on bottom gear.
A Wonderful Sight.
A division on the march is quite a wonderful sight, horse, foot and artillery all moving slowly forward c'-er the countryside by parallel routes. From a height they look like grey serpents twisting here and there in the valley below, and on the wind one hears the faint eel,o of the "poilus' " famous mrrch, "Le Regiment de Sambre et Meuse," or the musical jingle of stirrups and hits as the cavalry pass. A speck appears on the white road behind the blue-grey column, a swift-moving speck with a wisp of blue smoke behind. The column moves to the side and the speck flashes by at scarcely slackened speed, while .orie hears the br-r-r-r of a motorcycle engine ; it's a despatch rider with orders of impel:taro-F.4.
Happily for us the weather has been fine and, more important still, mild, for billets are scarce, and a clean barn with straw is all that one can expect. Three of us are at present occupying a barn and, incidentally, providing our old host and his wife with considerable amusement and entertainment by our morning ablutions. We are the first English they have seen, and they cannot do enough for us. Should we enter the barn at any time, Madame is sure to pop in with an offer of hot water, as she now takes it for granted we are always seeking to wash ourselves. Our clothes, both uniform and underwear, always draw admiration, while my field boots have so taken the
patron's" eyg that I have promised to send them to him apres la guerre ",for "la chasse," when I doubt. not he will cause as great a sensation as if he turned up with the latest hammerless 12-bore obtainable. There is, by the way, very little game here, but I saw the " poilus" bag a fine hare yesterday afternoon.. I am afraid the "poilu' is very much the same as his English " confrere " when it comes to a little additional dainty for the mess pot. A Strange New Year's Eve.
Our celebration of the New Year last night was made under difflculties, but was none the less enjoyable for that. It was certainly the strangest at which I have yet assisted. Imagine the village café if you can .,.-the village has but 200 inhabitants, but considerably more cows' so resembles a large and very dirty farmyard. Naturally, as everyone congregates at the • café, the café is the dirtiest place of all, and, when at meals, the latest out from home is told off to see that the door leading from ourmessroom to the cowshed is only.opened over his dead body. We have pointed out to him that the result for him is the Same anyhow, as should he be killed he is dead, and should he allow the door to be opened he would certainly die. However,• rumour says that tomorrow we trek again, and I happen to know that rumour is for once correct. Where shall we land, I wonder, and in what circumstances? Straw or a chateau ? Whatever happens ". n'importe o'est la guerre" we have adopted the simple philosophy of our "poilu " comrades.
We are seeing life, you see, and roughing it seems to. agree with one, although one gets a twinge of rheumatism or neuralgia occasionally. It can't last for ever though.