Seasonal Sugar Beet Reminder to East Midland Operators
22nd June 1962
Page 60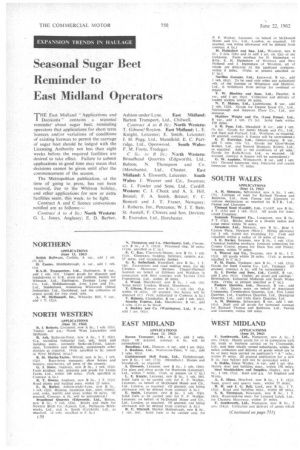 Page 60, 22nd June 1962 —
Seasonal Sugar Beet Reminder to East Midland Operators
Close
THE East Midland "Applications and Decisions" contains a seasonal reminderabout sugar beet, reminding operators that applications for short term licences and/or variations of conditions of existing licences to permit the carriage of sugar beet should be lodged with the Licensing Authority not less than eight weeks before the required facilities are desired to take effect. Failure to submit applications in good time may mean that decisions cannot be given until after the commencement of the season.
The Metropolitan publication, at the time of going to , press, has not been received, due to the Whitsun holiday, and other applications for new or extra facilities seem, this week, to be light.
Contract A and C licence conversions notified are as follows: Contract A to A lic.: North Western: G. L. Jones. Anglesey; E. D. Barber, Ashton-under-Lyne. East Midland: Barton Transport, Ltd., Chilwell.
Contract A to B lie.: North Western: T. Gibson Royton. East Midland: L. E. Knight. Leicester; E. Smith, Leicester; J. H. Pegg, Ltd., Mansfield; E. C. Part ridge, Ltd., Openwood. South Wales:
F. M. Foote, Tredegar.
-C tic. to B 1k.: North Western: Broadhead Quarries (Edgworth), Ltd., Bolton; N. Thompson and Co. (Merchants), Ltd.. Chester. East Midland: S. Elsworth, Leicester. South Wales: J. Weaver and Co., Swansea: G. J. Fowler and Sons, Ltd., Cardiff. Western: C. J. Cheek and A. S. Hill. Bristol; F. A. Smith, Bristol; F. C. Bennett and J. T. Fraser. Newquay; J. Roberts, lnr., Penzance; W. J. T. Bate, St. Austell; F. Chivers and Son, Devizes; R. Eversden, Ltd., Dorchester.