Tipper Success Story
22nd June 1962
Page 54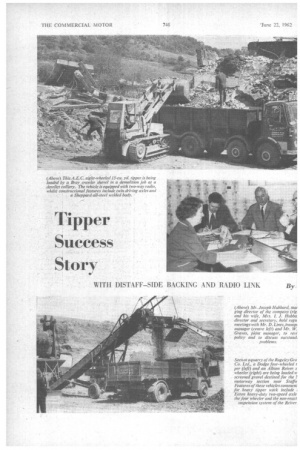 Page 55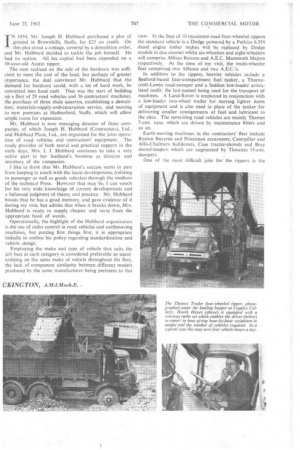 Page 56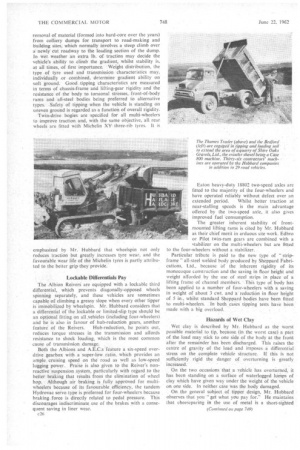 Page 59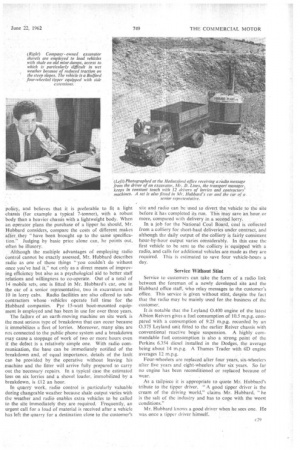 Page 54, 22nd June 1962 —
Tipper Success Story
Close
IN 1954, Mr. Joseph H. Hubbard purchased a plot of ground in Brownhills, Staffs, for £25 on credit. On . this plot stood a cottage, covered by a demolition order, and Mr. Hubbard decided to tackle the job himself. He had no option. All his capital had been expended on a 10-year-old Austin tipper, , The sum realized on the sale of the hardcore was sufficient to meet the cost of the land, but perhaps of greater importance, the deal convinced Mr. Hubbard that the demand for hardcore.cpuld, with a lot of hard work, be converted into hard cash. That was the start of building up a fleet of 29 road vehicles and 36 contractors' machines, the purchase of three shale quarries, establishing a demolition, materials-supply-and-excavation service, and moving to new premises at Hednesford, Staffs, which will allow ample room for expansion.
Mr. Hubbard is now managing director of three cornpanics, of which Joseph H. Hubbard (Contractor's), Ltd., and Hubbard Plant, Ltd., are organized for the joint operation of road vehicles and contractors' equipment. • The ready provider of both moral and practical support in the early days, Mrs. I. J. Hubbard continues to take a very active part in her husband's business as director and secretary of the companies.
I like to think that Mr. Hubbard's success stenis in part from keeping in touch with the latest developments (relating to passenger as well as goods vehicles) through the medium of the technical Press. However that may be, I can vouch for his very wide knowledge of current developments and a balanced judgment of theory and practice.. Mr. Hubbard boasts that he has a good memory, and gave evidence of it during my visit, but admits that when it breaks down, Mrs. Hubbard is ready to supply chapter and verse from the appropriate book of words.
Operationally, the highlight of the Hubbard organization is the' use of radio control in road vehicles and earthmoving machines, but putting first things first, it is appropriate initially to outline his policy regarding standardization and vehicle design.
Employing the make and type of vehicle that suits the job best in each category is considered preferable to standardizing on the same make of vehicle throughout the fleet, the lack of component similarity between different models produced by the same manufacturer being pertinent to this
view. In the fleet of 10 maximum-load four-wheeled tippers the standard vehicle is a Dodge powered by a Perkins 6.354 diesel engine (other makes will be replaced by •Dodge models in due course) whilst six-wheelers and eight-wheelers will comprise Albion Reivers and A.E.C. Mammoth Majors respectively. At the time of my visit, the multi-wheeler fleet comprised two Albions and two A.E.C.'s.
In addition to the tippers, heavier vehicles include a Bedford-based four-compartment fuel tanker, a Thornycroft-Lewin road-sweeper, and a Seddon low-loader articulated outfit, the last-named being used for the transport of machines. A Land-Rover is employed in conjunction with a low-loader two-wheel trailer for moving lighter items of equipment and is also used in place of the tanker for delivering smaller consignments of fuel and lubricant to the sites. The remaining road vehicles are mainly Thames 7-cwt. vans, which are driven by maintenance fitters and so on.
Earth-moving machines in the contractors' fleet include Ruston Bucyrus and Priestman excavators, Caterpillar and Allis-Chalmers. bulldozers, Case tractor-shovels and Bray shovel-loaders which are augmented by Thwaites 15-cwt. dumpers.
One of the most difficult jobs. for the tippers is the removal of material (formed into hard-core over the years) from colliery dumps for transport to road-making and building sites. which normally involves a steep climb over a-newly cut roadway to the loading section of the dump. In wet weather an extra lb. of traction may decide the vehicle's ability to climb the gradient, whilst stability is, at all times,.of first importance. Weight distribution, the type .of tyre used and transmission characteristics may, individually or combined, determine gradient ability on soft ground. Good tipping characteristics are measured in terms of chassis-frame and lifting-gear rigidity and the resistance of the body to torsional stresses, front-of-body rams and all-steel bodies being preferred to alternative types. Safety of tipping when the vehicle is standing on uneven ground is regarded as a function of overall rigidity.
Twin-drive bogies are specified for all multi-wheelers to improve traction and, with the same objective, all rear wheels are fitted with Michelin XV three-rib tyres. It is emphasized by Mr. Hubbard that wheelspin not only reduces traction but greatly increases tyre wear, and the favourable wear life of the Michelin tyres is partly attributed to the better grip they provide.
Lockable 'Differentials Pay The Albion Reivers are equipped with a lockable third differential, which prevents diagonally-opposed wheels spinning separately, and these vehicles are sometimes capable of climbing a greasy slope when every other tipper is immobilized by wheelspin. Mr. Hubbard considers that a -differential of the lockable or limited-slip type should be an optional fitting. on all vehicles (including four-wheelers) and -he is also in favour of hub-reduction gears, another
feature of the Reivers. Hub-reduction, he points out, reduces torque stresses in the transmission and affords resistance to shock loading, which is the most common cause of transmission damage.
Both the Albions and A.E.C.s feature a six-speed overdrive gearbox with a super-low ratio, which provides an ample, cruising speed on the road as well as low-speed lugging power_ Praise is also given to the Reiver's nonreactive suspension system, particularly with regard to the better braking that results from the elimination of wheel hop. Although air braking is fully approved for multiwheelers because of its favourable efficiency, the tandem Hydrovac servo type is preferred for four-wheelers because braking force is directly related to pedal pressure. This discourages indiscriminate use of the brakes with a consequent saving in liner wear.
c26 Eaton heavy-duty 18802 two-speed axles are fitted to the majority of the four-wheelers and have operated reliably without defect over an extended period. Whilst better traction at near-stalling speeds is the main advantage offered by the two-speed ax-le, it also gives improved fuel consumption.
The greater inherent stability of frontmounted lifting rams is cited by Mr. Hubbard as their chief merit in arduous site work. Edbro or Pilot twin-ram gears are combined with a qtabilizer on the multi-wheelers but are fitted to the four-wheelers without a stabilizer.
Particular tribute is paid to the new type of "stripframe" all-steel welded body produced by Sheppard Fabrications, Ltd., because Of the inherent rigidity of its monocoque construction and the saving in floor height and weight afforded by the use of steel strips in place of a lifting frame of channel thenibers. This type of body has been applied to a number of four-wheelers with a saving in weight of about 3 cwt. and areductiOn in floor height of 5 in., whilst standard Sheppard bodies have been fitted to multi-wheelers. In both cases tipping tests have been made with a big overload.
Hazards of Wet Clay
Wet clay is described by Mr. Hubbard as the worst possible material to tip, 'because (in. the worst case) a part of the load may stick to one side of the body at the front after the remainder has been discharged. This raises the centre of gravity of the load and imposes a differential stress on the complete vehicle structure. If this is not sufficiently rigid the danger of overturning is greatly increased.
On the two occasions that a vehicle has overturned, it has been standing on a surface of waterlogged lumps of clay which have given way under the weight of the vehicle on one side. In neither case was the body damaged.
On the general subject of tipper design, Mr. Hubbard observes that you " get what you pay for." He maintains that cheeseparing in the use of metal is a short-sighted policy, and believes that it is preferable to fit a light chassis (for example a typical 7-tonner), with a robust body than a heavier chassis with a lightweight body. When an operator plans the purchase of a tipper he should, Mr. Hubbard considers, compare the costs of different makes
•affer they "have been brought up to the same specification." Judging by basic price alone can, he points out,
often be illusory. • • . . • Although the multiple advantages of employing radio eontrol cannot be exactly assessed, Mr. Hubbard describes radio as one of those things "you couldn't do without once you've had it," not only as a direct means of improving efficiency but also as a psychological aid to better staff relations and willingness to Co-operate. Out of a total of 14 mobile sets,. one is fitted in Mr. Hubbard's car, one in the car of a senior representative, two in excavators and 10 in lorry cabs. Radio facilities are also offered to subcontractors whose • vehicles operate full time for the Hubbard companies. Pye 15-watt boot-mounted equipment is employed and has been in use for over three years.
The failure of an earth-moving machine on site work is the most serious type of breakdown that can occur because it immobilizes a fleet of lorries. Moreover, many sites are not connected to the public phone system and a breakdown may cause a stoppage of work of two or more hours even if the defect is a relatively simple one. With radio communication, the base can be immediately notified of the breakdown and, of equal importance, details of the fault can he provided by the operative without leaving his machine and the fitter will arrive fully prepared to carry out the necessary repairs. In a typical case the estimated loss on six lorries and a shovel loader, immobilized by a breakdown, is £12 an hour.
In quarry work, radio control is particularly valuable during changeable weather because shale output varies with the Weather and radio enables extra vehicles to he called to the site immediately they are required. .Frequently, an urgent call for a load of material is received after a vehicle has left the quarry for a destination close to the customer's site and radio can be used to divert the vehicle to the site before it has completed its run. This 'may save an hour,or more compared with delivery in a second lorrY.
In a job for the National Coal Board, coal is collected from a colliery for short-haul deliveries under contract, and although the daily output of the colliery, is fairly consistent hour-by-hour output varies considerably. In this case the first vehicle to be sent to the colliery is equipped with a radio, and calls for additional vehicles are made as they are required. This is estimated to save four vehicle-hours a day.
Service Without Stint Service to customers can take the form of a radio link between the foreman of a newly developed • site and the Hubbard office staff, Who relay messages to the customer's office. This service is given without stint, despite the fact that the radio may be mainlyused for the business of the customer.
It .is notable that the Leyland 0.400 engine of the latest Albion Reivers gives a fuel consumption of 10.5 m.p.g. compared with a consumption of 9.25 m.p.g. recorded by an 0.375 Leyland unit fitted to the earlier Reiver chassis with conventional reactive bogie suspension. A highly commendable fuel consumption is also a strong point of the Perkins 6.354 diesel installed in the Dodges, the average being about 14 m.p.g. A Thames Trader with GD engine averages 12 m.p.g.
Four-wheelers are replaced after four years, six-wheelers after five years and eight-wheelers after six years. So far no engine has been reconditioned or replaced because of wear.
As a tailpiece it is appropriate to quote Mr. Hubbard's tribute to the tipper driver. " A good tipper driver is the cream of the driving world," claims Mr. Hubbard, "he is the salt of the industry and has to cope with the worst conditions."
Mr. Hubbard knows a good driver when he sees one. He was once a tipper driver himself.