Servicing Insulating Oils
22nd June 1962
Page 42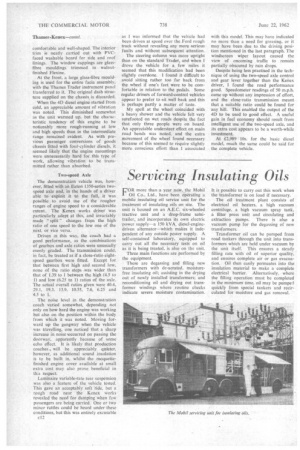 Page 42, 22nd June 1962 —
Servicing Insulating Oils
Close
F-OR more than a year now, the Mobil Oil Co., Ltd., have been operating a mobile insulating oil service unit for the treatment of insulating oils on site. The unit is housed on an A.E.C. six-wheeled tractive unit and a drop-frame semitrailer, and incorporates its own electric power supply—a 150 kVA. diesel-enginedriven alternator—which makes it independent of any outside power supply. A self-contained laboratory, equipped to carry out all the necessary tests on oil as it is being treated, is also on the unit.
Three main functions are performed by the equipment.
These are degassing and filling new transformers with de-aerated, moisturefree insulating oil; assisting in the drying out of newly installed transformers; and reconditioning oil and drying out transformer windings where routine checks indicate severe moisture contamination. It is possible to carry out this work when the transformer is on load if necessary.
The oil treatment plant consists of electrical oil heaters, a high vacuum centrifuge, a high vacuum spray tank, a filter press unit and circulating and extraction pumps. There is also a vacuum pump for the degassing of new transformers.
Transformer oil can be pumped from road tankers through the unit into transformers which are held under vacuum by the unit itself_ This ensures a steady filling rate with oil of superior quality, and ensures complete air or gas evacuation. Oil then easily permeates into the insulation material to make a complete electrical barrier. Alternatively, where the filling operation must be completed in the minimum time. oil may be purnpe-.I quickly from special tankers and recirculated for moisture and gas removal.