Welsh Bus Companies' Heavy Losses
22nd June 1962
Page 31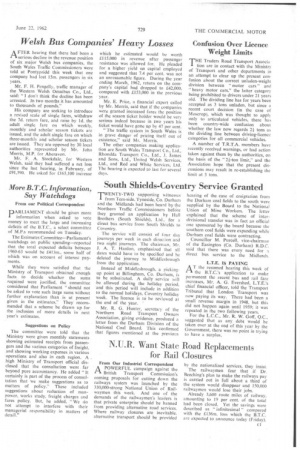 Page 31, 22nd June 1962 —
Welsh Bus Companies' Heavy Losses
Close
AFTER hearing that there had been a serious decline in the revenue position
of six major Welsh bus companies, the South Wales Traffic Commissioners were told at Pontypridd this week that one company had lost 15m. passengers in six years.
Mr. F. H. Pengelly, traffic manager of the Western Welsh Omnibus Co., Ltd., said: "I don't think the decline has been arrested. In two months it has amounted to thousands of pounds."
His company are seeking to introduce a revised scale of single fares, withdraw the 7d. return fare, and raise by id. the adult single fare on which weekly, monthly and scholar season tickets are issued, and the adult single fare on which three-monthly and scholar season tickets are issued. They are opposed by 30 local authorities represented by Mr. John Morris, M.P. for Aberavon.
Mr. F. A. Stockdale, for Western Welsh, said they had suffered a net loss since the last hearing, in February, of £91,390. He asked for £165,100 increase which he estimated would be worth £115,000 in revenue after passenger resistance was allowed for. He pleaded for a higher yield an capital employed and suggested that 7.4 per cent. was not an unreasonable figure. During the year ending March, 1962, return on the company's capital had dropped to £42,000, compared with £153,000 in the previous year.
Mr. E. Price, a financial expert called by Mr. Morris, said that if the companies were granted increased fares the position of the season ticket holder would be very serious indeed because in two years his ticket would have gone up by 47 per cent.
"The traffic system in South Wales is in grave danger of pricing itself out of existence," said Mr. Morris.
The other companies making application are South Wales Transport Co., Ltd., Rhondda Transport Co., Ltd., J. James and Sons, Ltd., United Welsh Services, Ltd., and Red and White Services, Ltd. The hearing is expected to last for several days.