More B.T.C. Information, Say Watchdogs
22nd June 1962
Page 31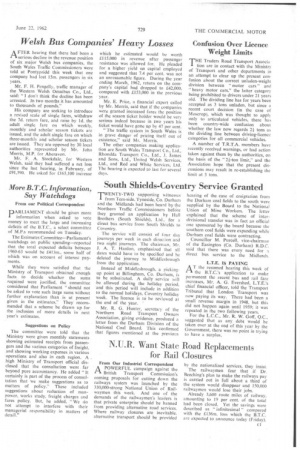 Page 31, 22nd June 1962 —
More B.T.C. Information, Say Watchdogs
Close
From our Political Correspondent
PARLIAMENT should be given more information when asked to vote money to meet the large and increasing deficits of the B.T.C., a select committee of M.P.s recommended on Tuesday.
The Estimates Committee—Parliament's watchdogs on public spending—reported that the total expected deficits between 1960-63 would be £413m., some half of which was on account of interest payments.
While they were satisfied that the Ministry of Transport obtained enough facts to decide whether the sums required were justified, the committee considered that Parliament "should not be asked to vote such large sums without further explanation than is at present given in the estimates." They recommended that a scheme be drawn up for the inclusion of more details in next year's estimates.
Suggestions on Policy The committee were told that the Ministry were given monthly statements showing estimated receipts from passengers and the various categories of freight, and showing working expenses in various operations and also in each region. A high Ministry of Transport official disclosed that the consultation went far beyond pure accountancy. He added "It certainly is part of the process of consultation that we make suggestions as to matters of policy." These included suggestions about reduction of manpower, works study, freight charges and fares policy. But, he added, "We do not attempt to interfere with their managerial responsibility in matters of detail."