New " Plating " Law for Vehicles Sought
22nd June 1962
Page 29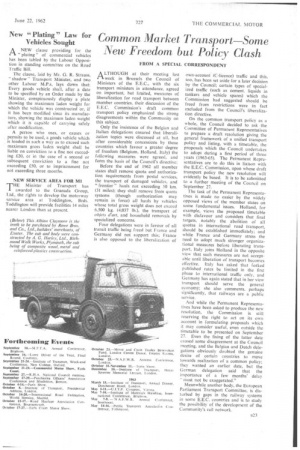 Page 29, 22nd June 1962 —
New " Plating " Law for Vehicles Sought
Close
ANEW clause providing for the " plating" of commercial vehicles has been tabled by the Labour Opposition in standing committee on the Road Traffic Bill.
The clause, laid by Mr. G. R. Strauss, shadow" Transport Minister, and two other Labour M.P.s, lays down that: Every goods vehicle shall, after a date to be specified by an Order made by the Minister, conspicuously display a plate showing the maximum laden weight for which the vehicle was constructed or, if it has been modified since its manufacture, showing the maximum laden weight which it is capable of carrying safely after modification.
A person who uses, or causes or permits to be used, a goods vehicle which is loaded in such a way as to exceed such maximum gross laden weight shall be liable on conviction to a fine not exceeding £20, or in the case of a second or subsequent conviction to a fine not exceeding £50, or to imprisonment for not exceeding three months.
NEW SERVICE AREA FOR MI THE Minister of Transport has I awarded to the Granada Group, Ltd., the rights to develop the motorway service area at Toddington, Beds. Toddington will provide facilities 14 miles nearer London than at present.