40 m.p.h. Goods-vehicle Limit is Imminent
22nd June 1962
Page 28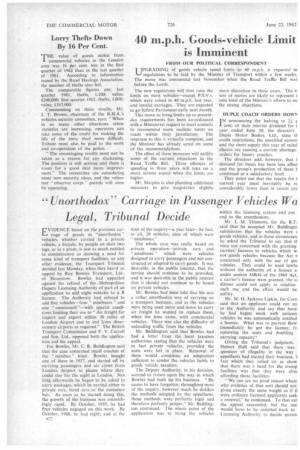 Page 28, 22nd June 1962 —
40 m.p.h. Goods-vehicle Limit is Imminent
Close
FROM OUR POLITICAL CORRESPONDENT
UPGRADING of goods vehicle speed limits to 40 m.p.h. is expected in regulations to be laid by the Minister of Transport within a few weeks. The move was announced last November when the Road Traffic Bill was before the Lords.
The new regulations will thus raise the limits on most vehicles—except P.S.V.s, which were raised to 40 m.p.h. last year, and invalid carriages. They are expected to go before Parliament early next month.
This move to bring limits up to presentday requirements has been co-ordinated with a Ministerial request to local coimcils to recommend more realistic limits on roads within their jurisdiction. The response to this is virtually complete, and the Minister has already acted on sonic of the recommendations.
The effect of these increases will nullify some of the current objections to the Road Traffic Bill. Three offences of speeding in three years will take on a more serious aspect when the limits are higher.
Mr. Marples is also planning additional measures to give magistrates slightly more discretion in these cases. The t, sets of moves are likely to represent t sum total of the Minister's efforts to mt the strong objections.
DUPLE COACH ORDERS DOWN I N announcing the halving to 24
1 cent. of their interim dividend for t year ended June 30, the directors Duple Motor Bodies, Ltd., state t1 credit restrictions, the unsettled econol and the short supply this year of suital chassis are causing a current shortage orders for luxury coaches.
The directors add, however, that demand for buses has been less affect and the group's production of these continued at a satisfactory level.
They point out that the results for 1 current year must inevitably be vt considerably lower than in recent yea