Thom
22nd June 1962
Page 26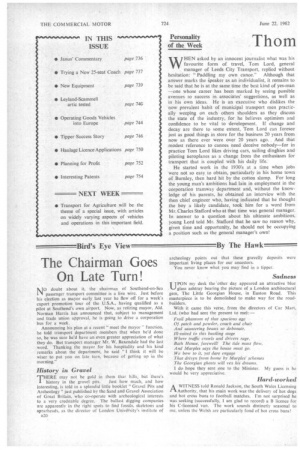 Page 27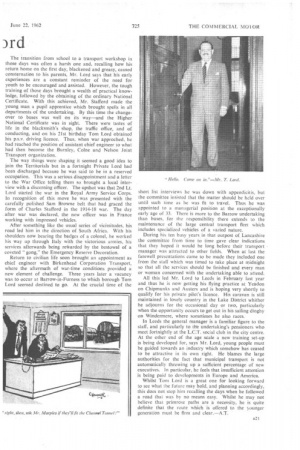 Page 26, 22nd June 1962 —
Thom
Close
)rd
WHEN asked by an innocent journalist what was his favourite form of travel, Tom Lord, general manager of Leeds City Transport, replied without hesitation: "Paddling my own canoe." Although that answer marks the speaker as an individualist, it remains to be said that he is at the same time the best kind of yes-man —one whose career has been marked by seeing possible avenues to success in associates' suggestions, as well as in his own ideas. He is an executive who dislikes the now prevalent habit of municipal transport men practically weeping on each others shoulders as they discuss the state of the industry, for he believes optimism and confidence to be vital to development. If change and decay are there to some extent, Tom Lord can foresee just as good things in store for the business 20 years from now as there ever were over 20 years ago. And that modest reference to canoes need deceive nobody—for in practice Tom Lord likes driving cars, sailing dinghies and piloting aeroplanes as a change from the enthusiasm for transport that is coupled with his daily life.
He started work in the 1930's at a time when jobs were not so easy to obtain, particularly in his home town of Burnley, then hard hit by the cotton slump. For long the young man's ambitions had lain in employment in the corporation tramway department and, without the knowledge of his parents, he obtained an interview with the then chief engineer who, having indicated that he thought the boy a likely candidate, took him for a word from Mr. Charles Stafford who at that time was general manager. In answer to a question about his ultimate ambitions, young Lord told Mr. Stafford that he saw no reason why, given time and opportunity, he should not be occupying a position such as the general manager's own!
The transition from school to a transport workshop in those days was often a harsh one and, recalling how his return home on the first day, blackened and greasy, caused consternation to his parents, Mr. Lord says that his early experiences are a constant reminder of the need for youth to be encouraged and assisted. However, the tough training of those days brought a wealth of practical knowledge, followed by the obtaining of the ordinary National Certificate. With this achieved, Mr. Stafford made the young man a pupil apprentice which brought spells in all departments of the undertaking. By this time the changeover to buses was well on its way—and the Higher National Certificate was in sight. There were tastes of life in the blacksmith's shop, the traffic office, and of conducting, and on his 21st birthday Tom Lord obtained his p.s.v. driving licence. Thus, when war approched, he had reached the position of assistant chief engineer to what had then become the Burnley, Colne and Nelson Joint Transport organization.
The way things were shaping it seemed a good idea to join the Territorials but in a fortnight Private Lord had been discharged because he was said to be in a reserved occupation. This was a serious disappointment and a letter to the War Office telling them so brought a local interview with a discerning officer. The upshot was that 2nd Lt. Lord started the war in the Royal Army Service Corps. In recognition of this move he was presented with the carefully polished Sam Browne belt that had graced the form of Charles Stafford in the 1914-18 war. The day . after war was declared, the new officer was in France working with impressed vehicles.
After something like the usual series of vicissitudes, his road led him in the direction of South Africa. With his shoulders now bearing the badges of a colonel, he worked his way up through Italy with the victorious armies, his services afterwards being revarded by the bestowal of a coveted "gong," the Emergency Reserve Decoration.
Return to civilian life soon brought an appointment as chief engineer with Birkenhead Corporation Transport, where the aftermath of war-time conditions provided a new element of challenge. Three years later a vacancy was to occur at Barrow-in-Furness to which borough Tom Lord seemed destined to go. At the crucial time of the
short list interviews he was down with appendicitis, but the committee insisted that the matter should be held over until such time as he was fit to travel. Thus he was appointed to a managerial position at the exceptionally early age of 33. There is more to the Barrow undertaking than buses, for the responsibility there extends to the maintenance of the large central transport fleet which includes specialized vehicles of a varied nature.
During his ten busy years in that outpost of Lancashire the committee from time to time gave clear indications that they hoped it would •be long before their transport manager was attracted to other fields. When at last the farewell presentations came to be made they included one from the staff which was timed to take place at midnight so that all the services should be finished and every man or woman concerned with the undertaking able to attend.
All this led Mr. Lord to Leeds in February last year and thus he is now getting his flying practice at Yeadon on Chipmunks and Austers and is hoping very shortly to qualify for his private pilot's licence. His caravan is still maintained in lovely country in the Lake District whither he adjourns for the occasional day or two, particularly when the opportunity occurs to get out in his sailing dinghy on Windermere, where sometimes he also races.
In Leeds the general manager is a familiar figure to the staff, and particularly to the undertaking's pensioners who meet fortnightly at the L.C.T. social club in the city centre. At the other end of the age scale a new training set-up is being developed for, says Mr. Lord, young people must be guided towards an industry which somehow has ceased to be attractive in its own right. He blames the large authorities for the fact that municipal transport is not automatically throwing up a sufficient percentage of new executives. In particular, he feels that insufficient attention is being paid to developments in Europe and America.
Whilst Torn Lord is a great one for looking forward to see what the future may hold, and planning accordingly, this does not stop him recalling the days when he followed a road that was by no means easy. Whilst he may not believe that primrose paths are a necessity, he is quite definite that the route which is offered to the younger generation must be firm and clear.—A.T.