ONE HEARS
22nd June 1926
Page 3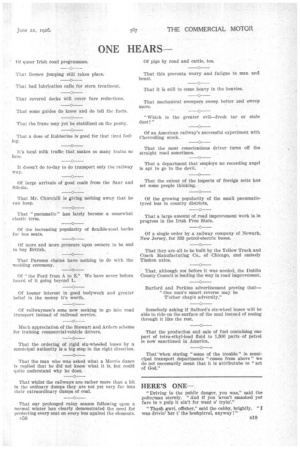 Page 3, 22nd June 1926 —
ONE HEARS
Close
Of queer Irish road programmes.
That licence jumping still takes place.
That bad lubrication calls for stern treatinent.
That covered decks will cover fare reductions.
That some guides do know and do tell the facts.
That the franc may yet be stabilized on the penny.
That a dose of Rubberine is good for that tired feeling.
It's local milk traffic that makes so many trains late.
It doesn't do to-day to do transport only the railway Way.
Of large arrivals of good coala from the Saar and That Mr. Churchill is giving nothing away that he can keep.
That " pneumatic " has lately become a somewhat elastic term.
Of the increasing popularity of flexible-steel backs for bus seats.
Of more and more pressure upon owners to be and to buy British.
That Parsons chains have nothing to do with the wedding ceremony.
Of " the Ford from A to Z." We have never before heard of it going beyond L.
Of keener interest in good bodywork and greater belief in the money it's worth.
Of railwaymen's sons now seeking to go into road transport instead of railroad service.
Much appreciation of the Stewart and Ardern scheme for training commercial-vehicle drivers.
That the ordering of rigid six-wheeled buses by a municipal authority is a big step in the right direction.
That the man who was asked what a Morris dance is replied that he did not know what it is, but could quite understand why he does.
That whilst the railways are rather more than a bit in the ordinary dumps they are not yet very far into their extraordinary dumps of coal.
That our prolonged rainy season following upon a normal winter has clearly demonstrated the need for protecting every seat on every bus against the elements.
c58 Of pigs by road and cattle, too.
That this prevents worry and fatigue to man and beast.
That it is still to come heavy in the heavies.
That mechanical sweepers sweep better and sweep more.
"Which is the greater evil—fresh tar or stale dust?"
Of an American railway's successful experiment with Chevrolling stock.
That the most conscientious driver turns off the SO straight road sometimes.
That a department that employs no recording angel is apt to go to the devil. • That the extent of the imports of foreign setts has set some people thinking.
Of the growing popularity of the small pneumatictyred bus in country districts.
That a large amount of road improvement work is in progress in the Irish Free State.
Of a single order by a railway company of Newark, New Jersey, for 333 petrol-electric buses.
That they are all to be built by the Yellow Truck and Coach Manufacturing Co., of Chicago, and embody Timken axles.
That, although not before it was needed, the Dublin County Council is leading the way in road improvement.
Barford and Perkins advertisement proving that" One man's smart reverse may be T'other chap's adversity."
Somebody asking if Salford's six-wheel buses will be able to ride on the surface of the mud instead of nosing through it like the rest.
That the production and sale of fuel containing one part of tetra-ethyl-lead fluid to 1,300 parts -of petrol is now sanctioned in America.
That whenstating "some of the trouble" in municipal transport departments "comes from above" we do not necessarily mean that it is attributabe to "act of God."
HERE'S ONE
" Driving to the public danger, you was," said the poliezman sternly. "And if you 'even't smashed yer fare to A pulp It ain't fer want o' tryin'."
" Thash 4wri, offisher," said the cabby, brightly. " was drivin' her t' the hoshpirral, anyway!"