THE LATEST ALL.WEATHER COACH.
22nd June 1926
Page 24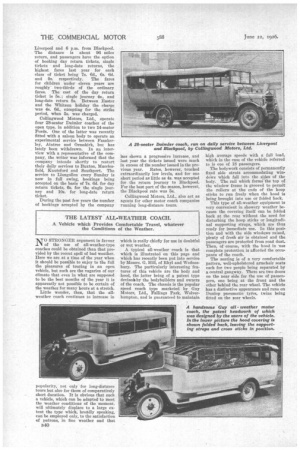 Page 24, 22nd June 1926 —
THE LATEST ALL.WEATHER COACH.
Close
A Vehicle which Provides Comfortable Travel, whatever the Conditions of the Weather.
NO STRONGER argument in favour of the use of all-weather-type coaches could be obtained than that provided by the recent spell of bad weather. nere we are at a time of the year when it should be possible to enjoy to the full the pleasures of touring in an open vehicle, but such are the vagaries of our climate that even in what are supposed to be the best months of the year it is apparently not possible to be certain of the weather for many hours at a stretch.
Little wonder, then, that the allweather coach continues to increase in
which is really chiefly for use in doubtful or wet weather.
A typical all-weather coach is that which is illustrated on this page and which has recently been put into service by Messrs. G. Bill, of Rhyl and Wednesbury. The particularly interesting features of this vehicle are the body and hood, the latter being of a patent type devised, by the bodybuilders and owners of the coach. The chassis is the popular speed coach type marketed by Guy Motors, Ltd., Fallings Park, Wolverhampton, and is guaranteed to maintain
high average speeds with a full load, which in the case of the vehicle referred to is one of 18 passengers.
The bodywork consists of permanently fixed side struts accommodating windows which fall into the sides of the body. The rail which formsi. the top of the window frame is grooved to permit the milers at thei ends 4 the hoop sticks to run freely when the hood is being brought into use or folded back.
This type of all-weather equipment is very convenient in showery weather because the covering itself can be folded back at the rear without the need for disturbing the hoop sticks or longitudinal supporting straps, which are thus ready for immediate use. In this position and with the side winclo_ws raised, plenty of fresh air is obtained and the passengers are protected from road dust. Then, of course, with the hood in -use complete protection is afforded the occupants of the coach.
The seating is of a very comfortable pattern, well-upholstered armchair seats each for two people being separated by a central gangway. There are two doors on the near side for the use of passengers, one being at the front and the other behind the rear wheel. The vehicle has a distinctive appearance and runs on Dunlop pneumatic tyres, twins being fitted on the rear wheels.