SIXTH SEASON FOR DAILY SERVICE COACHES.
22nd June 1926
Page 23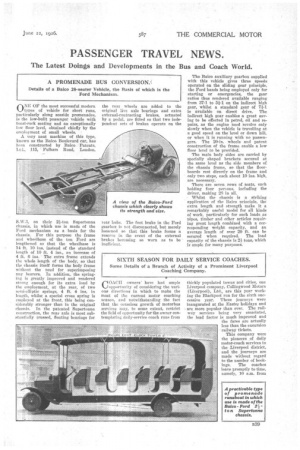 Page 24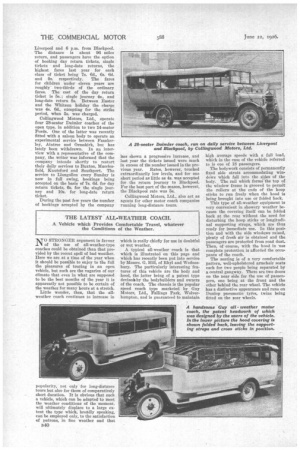 Page 23, 22nd June 1926 —
SIXTH SEASON FOR DAILY SERVICE COACHES.
Close
Some Details of a Branch of Activity of a Prominent Liverpool Coaching Company.
-,•-..vr .
OACII owners have had ample
opportnnity of considering the various directions in which to make the most of the current motor coaching season, and notwithstanding the fact that the ceaseless growth of motorbus ,Services may, to some extent, restrict the field of opportunity for the owner contemplating daily-service coach runs from thickly populated towns and cities, one Liverpool company, Collingwood Motors (Liverpool), Ltd., are this year working the Blackpool run for the sixth successive year. These journeys were inaugurated at the Easter holidays and are more popular than ever. The railway services being very emaciated, the load factor is much improved and the fares are actually less than the excursion railway tickets.
This company were the pioneers of daily motor-coach services in the ,-Liverpool district, and the journeys are made without regard
to the number of book. ings. The coaches leave promptly to time, namely, 10 a.m. from Liverpool and 6 p.m. from Blackpool. The distance is about 96 miles return, and passengers have the option of booking day return tickets, single tickets and long-date returns, the highest fares last year for each class of ticket being '7s. 6d., 6s. 6d. and 9s. respectively. The fares for children under eleven years are roughly two-thirds of the ordinary fares. The cost of the day return ticket is 5s. ; single journey 4s., and long-date return 8s. 'Between Easter and the Whitsun holiday the charge was 4s. 6d., excepting for the strike period, when 5s. was charged.
Collingwood Motors, Ltd., operate four 23-seater Daimler coaches of the open type, in addition to two 14-seater Fords. One of the latter was recently fitted with a saloon body to operate an experimental service between Fazakerley, Aintree anti Ormskirk, but has lately been withdrawn. In an interview with a representative of the company, the writer was informed that the company intends shortly to restart their daily services to Buxton, Macclesfield, Knutsford and Southport. The service to Llangollen every Sunday is now in full swing, bookings being accepted on the basis of 7s. 6d. for day return tickets, 6s. for the single journey and 10s. for long-date return ticket.
During the past few years the number of bookings accepted by the company
has shown a progressive increase, and last year the tickets issued were much in excess of the number issued in the previous year. Rates, however, touched extraordinarily low levels, and for one short period as little as 4s. WAS accepted for the return journey to Blackpool. For the beet part of the season, however, the Blackpool rate was 5s.
Collingwood Motors, Ltd., also act as agents for other motor coach companies running long-distance tours.