Safety Factors in Steam-wagon Operation.
22nd June 1926
Page 2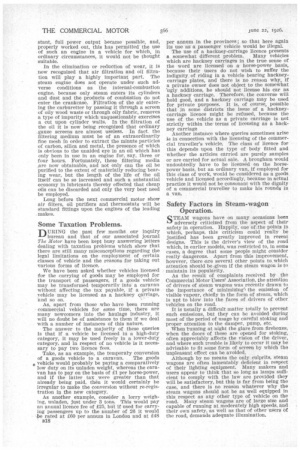 Page 2, 22nd June 1926 —
Safety Factors in Steam-wagon Operation.
Close
STEAM wagons have on many occasions been LP adversely criticized from the aspect of their safety in operation. Happily, one of ,the points in which, perhaps, this criticism could really be justified has been greatly improved in recent designs. This is the driver's view of the road which, in earlier models, was restricted to, in some cases, a degree that some people might consider really dangerous. Apart from this improvement, however, there tare several other points to which attention should be-given if the steam wagon is to maintain its popularity.
As the result of complaints received by the Commercial Motor Users' Association, the attention of drivers of steam wagons was recently drawn to the importance of minimizing', the emission of visible vapour, chiefly in the form of steam, which is apt to blow into the faces of drivers of other vehicles on the road.
It is usually a difficult matter totally to prevent such emissions, but they can be avoided during most of the period of usage by careful stoking and proper attention to the damper, pump, etc.
• When tunning at night the glare from fireboxes, when the doors of these are opened for stoking, often appreciably affects the vision of the driver, and where such trouble is likely to occur it may be advisable to fit some form of screen by which the unpleasant effect can be avoided.
Although by no means the only culprits, steam wagons are often lamentably deficient in respect of their lighting equipment. Many makers and users appear to think that so long as lamps sufficient to comply with the law are provided they will be satisfactory, but this is far from being the case, and there is no reason whatever why the steam wagons should not be as well equipped in this respect as any other type of vehicle on the road. Many steam wagons are of large size and capable of running at moderately high speeds, and their own safety, as well as that of other users of the road, demands adequate illumination.