A DEVICE FOR MITIGATING DAZZLE.
22nd June 1926
Page 19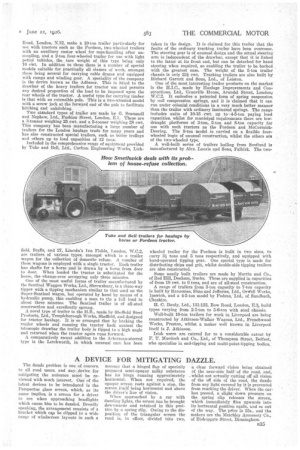 Page 19, 22nd June 1926 —
A DEVICE FOR MITIGATING DAZZLE.
Close
The dazzle problem is one of concern to all road users, and any device for mitigating the nuisance must be reviewed with much interest. One of the latest devices to be introduced is the Perspectus glare screen, which, as its name implies, is a screen for a driver to use when approaching headlights which cause him to be dazzled. Broadly speaking, the arrangement consists of a bracket which cap be clipped to a wide range of windscreen layouts in such a manner that a hinged flap of specially prepared semi-opaque milky substance has its hinge running approximately horizontal. When not required, the opaque screen rests against a stop, the screen itself being horizontal and above the driver's line of vision.
When approached by a car with dazzling lights, the screen can be brought downwards and retained in this position by a spring clip. Owing to the disposition of the triangular screen the road is, in effect, divided bite two,
a clear forward vision being obtained of the near-side half of the road, and, whilst not actually cutting off all vision of the off side of the road, the dazzle from any light covered by it is prevented from reaching the driver. When the carhas passed, a slight down pressure on the spring clip releases the screen, which immediately flies upwards into its horizontal position again, and so out of the way. The price is 15s., and the makers are the Metchley Accessory Co., of Bishopgate Street, Birmingham.