Notes from Northern Ireland.
22nd June 1926
Page 11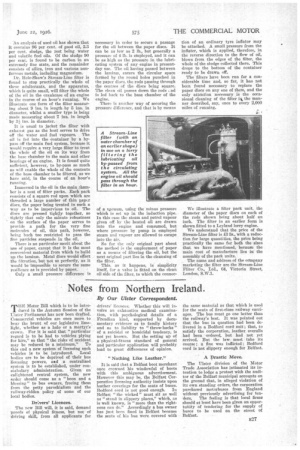 Page 11, 22nd June 1926 —
Notes from Northern Ireland.
Close
rrs HE Motor Bill which is to be intro'. duced in the Autumn Session of the -Ulster Parliament has now been drafted. Commercial vehicles are once more to bear the brunt of our legislative limelight, whether as a halo or a martyr's crown. For it is said that " particular regard is to be had to vehicles plying for hire," so that "the risks of accident may be reduced to a minimum." To this end a new system of licensing such
vehicles is to be introduced. Local bodies are to be deprived of their bus licensing powers, sued a centralized system is to be established, under constabulary administration. Given an enlightened central system, the new order should come as a "boon and a blessing" to bus owners, freeing them from the petty parochialism and the railway-ridden policy of some of our loeal bodies.
Drivers' Licences.
The new Bill will, it is said, demand proofs of physical fitness, but not of driving skill, from all applicants for
By Our Ulster Correspondent.
drivers' licences. Whether this will involve an exhaustive medical examination, with psychological details of a Freudian kind, supported by documentary evidence as to family history and as to liability to " throw-backs " of a suicidal or homicidal tendency, is not yet known. But the setting up of a physical-fitness standard of general and particular application will probably lead to great differences of opinion.
"Nothing Like Leather."
It is said that a Belfast boot merchant once crowned his windowful of boots with this ambiguous advertisement. However this' may be, the Belfast Corporation licensing authority insists upon leather coverings for the seats of buses. Bedford cord is not good enough. In Belfast "the wicked" must sit as well as "stand in slippery places," which, as is well known, is "more than the righteous can do." Accordingly a bus owner has just been fined in Belfast because the seats of his bus were covered with the same material as that which is used for the seats of first-class railway carriages. The bus must go one better than the railway's be,st. It was pointed out that the bus in question had been delivered in a Bedford cord suit ; that, to satisfy the corporation, leather overalls had been ordered, but had not yet arrived. But the law must take its course ; a fine was inflicted ; Bedford cord is not slippery enough for Belfast.
A Drastic Move.
The Ulster division of the Motor Trade Association has intimated its irrtention to lodge a protest -with the auditor of the Belfast municipal accounts on the ground that, in alleged violation of its own standing orders, the corporation purchased motorbuses from England without previously advertising for ten
ders. The feeling is that local firms should at least have been given an opportilisity of tendering for the supply of buses to be used on the street of Belfast.