MORE ABOUT LANCASHIRE RATES. A PROSECUTION WITH A MORAL.
22nd June 1920
Page 32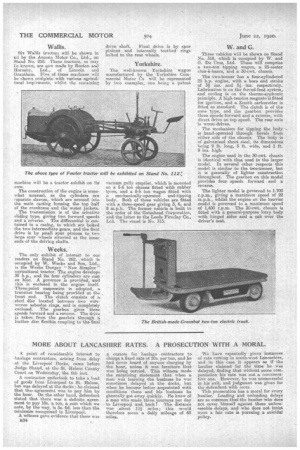 Page 32, 22nd June 1920 —
MORE ABOUT LANCASHIRE RATES. A PROSECUTION WITH A MORAL.
Close
A point of considerable interest to haulage contractors, arising from delay at the Liverpool Docks, came. before Judge. Shand, at the St. -Helens County Court on Wednesday, the 6th inst.
A contractor undertook to take a load of goods from Liverpool to St. Helens, but was delayed at the docks; he claimed that theagreement was to pay him by the hour. On the other hand, defendant stated that there was a definite. agreement to pay 10s a ton, a sum which we note, by the way, is 3s. 6d. /ess than the minimum recognized in Liverpool. A witness gave evidence that there was B34
a custom for haulage contractors to charge a fixed rate of 103. per ton, and he had never heard of anyone charging by the hour, unless it was furniture that was being carried. This witness made the surprising statement that when a man was learning the business he was sometimes delayed at the docks, hut when lie became better acquainted with conditions there and his business he generally gat away quickly. He knew of a man who made three journeys per day to Liverpool and back 1 The distance was about 114 miles; this would therefore mean a daily mileage of 69 miles. We have repeatedly given instances tai Tate cutting in south-west Lancashire, and in this case it appears as if the haulier claimed for the time he was delayed, finding that without some compensation his rate was not a remunerative one. However, he was unsuccessful in his suit, and judgment was given for the defendant with costs.
This prosecution has a moral for every haulier. Loading and unloading delays are so common that the haulier who does not cover himself against these unforeseeable delays, and who does not insist upon a fair rate is pursuing a suicidal