A New Broom
22nd July 1966
Page 64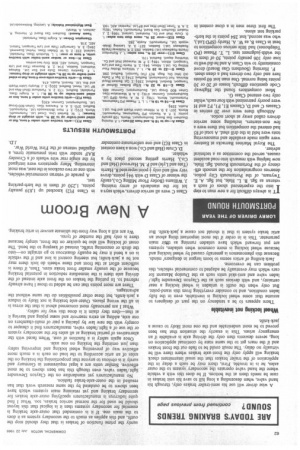 Page 64, 22nd July 1966 —
A New Broom
Close
TT is always difficult for a new man to step into the experienced shoes of such a veteran as Sgt. B. L. Hale, but Sgt. A. E. Tvvynam, of the Portsmouth City police, deserves congratulation for the smooth efficiency of the Portsmouth Round. Sgt. Hale, now helping with research into road accident causes, served the committee as a technical adviser.
The Royal Marines Barracks at Eastney were again made available and manoeuvring tests were held in the drill shed. A total of 85 had entered the competition but there were a few non-starters, including some service drivers called away at short notice.
Although there were over 20 entries in Classes C and D, Classes El, F1, F2 and H were poorly patronized with four each, whilst only two entered Class G.
Most competitors found the Highway Code questions difficult, losses of 20 or 30 points being normal. One man lost 60 points here and only two drivers had a clean sheet.
F. Horning (Southern Gas Board) drove consistently to win Class A and he did well to lose only 106 penalty points, 50 of them in the width-judgment test. L. T. Phesse (PO Telephones) had little serious competition to beat in Class B, as W. A. Hardy (SPD Ltd.), who was second, lost 284 points in the kerbparking test alone.
The first three men in a close contest in
Class C were all service drivers, which says a lot for the standards of army training. J. Williams (Botley Flour Milling Co.), easily the winner of Class D with 94+ points, drove very well and only + point separated R. Harris (Tate and Lyle) and P. M. Harwood (Hall and Co.), Harris getting second place by a whisker.
D. Crute (Hall and Co.) won a keen contest in Class E(2) and one unfortunate contender in Class F(2) knocked up 1,839 penalty points, 1,250 of them in the kerb-parking test.
A parade of veteran commercial vehicles, with one or two cuckoos in the nest, was most interesting. Many spectators were intrigued by the single rear wire wheels of a Crossley RAF tender with twin pneumatic tyres, a dignified veteran of the First World War.
J.D.