The penalty of delay
22nd July 1966
Page 36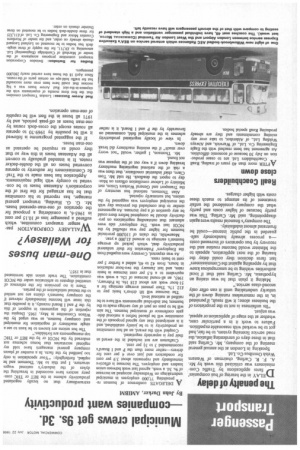 Page 36, 22nd July 1966 —
The penalty of delay
Close
DELAY in the hearing of bus companies' fares applications by Traffic Commissioners was criticized this week by Mr. A. F. R. Carling, chairman of Western Welsh Omnibus Co. Ltd.
Speaking in London at the annual general meeting of the company, Mr. Carling said that in these days of unrelenting inflation, the road service licensing system, to be fair, had got to be worked with reasonable expedition. Failure to work it in a particular case, whether at the stage of application or appeal, was unjust.
"Its unfairness is not to the proprietors of the business alone; it will result, if persisted in, in the remorseless running down of the unlucky undertaking until it can offer only second-class service."
Making it plain that he was stating an hypothesis. Mr. Carling said that if local authorities wishing to be unscrupulous knew that by appealing against the Commissioners' last fares decision they could delay the hearing of the next application, appeals to the Minister would become routine and the recovery by bus operators of increased costs —a process already handsomely safeguarded in the public interest—could be frustrated almost indefinitely.
The company's financial results were again disappointing, said Mr. Carling. This was partly because of higher costs and partly what the company considered the unfair treatment of its attempt to match these costs with higher charges.