Fuel Companies Ease So/us System
22nd July 1966
Page 35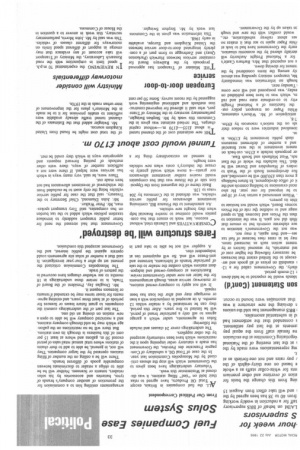 Page 35, 22nd July 1966 —
Fuel Companies Ease So/us System
Close
From Our Political Correspondent ALL the fuel companies in Britain, except Total Oil Products, have agreed to relax their hold on "tied" filling stations, it was disclosed at Westminster this week.
Voluntary undertakings have been given to the Government which will stop the abuses criticized by the Monopolies Commission last year.
In the case of Total Oil, a subsidiary of Cornpagnie Francaise des Petroles, the Government has made a statutory order imposing upon it the restrictions which have been voluntarily accepted by the other suppliers.
The undertakings cover 24 clauses and include the following: Solus tie agreements, under which a garage agrees to sell only a particular brand of petrol, will be limited to five years. After this period, they can be terminated by a retailer within 12 months. A tie accepted in conjunction with a loan or mortgage may end after the loan has been repaid.
It will not apply to company-owned stations, or motorway service areas, though arrangements for the latter are now under Government review.
Restrictions at company-owned and independent stations which confine the retailer to the sale of particular brands of lubricants, kerosene and anti-freeze will end. So will equipment ties at independent sites.
A supplier will not be able to take part in arrangements entitling him to a commission for the promotion of another company's brands of tyres, batteries and accessories by his solus retailers, tenants or licensees. Neither will he be able to oblige a retailer to discriminate between comparable goods of different brands. .
There will be a ceiling on the number of filling stations operated by the larger companies. They will not, in general, be able to add to their chains of stations where total annual retail sales of petrol exceed 50 m. gallons and where at least 15 per cent of this business is through its own stations.
But there will be no restrictions on the gallonage which may be sold through company stations, and a restricted company will be able to open a new station on closing an old one.
The last part of the undertakings commit the companies to grant future leases or licences for periods of at least three years, and existing agreements for lesser terms may be extended if tenants or licensees request it.
Mr. Douglas Jay, President of the Board of Trade, is to review these undertakings in 18 months to. see whether changes have occurred in the pattern of trade.
The Monopolies Commission criticized the present set up after a four-year investigation. It said that a number of solus site agreements could operate against the public interest, and the Government accepted this conclusion.