New joint delivery company
22nd July 1966
Page 34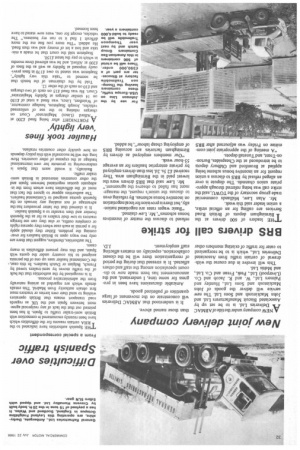 Page 34, 22nd July 1966 —
New joint delivery company
Close
NEW company under the title of ABMAC Deliveries Ltd. is to be set up by Associated Biscuit Manufacturers Ltd. and John Mackintosh and Sons Ltd. The new service will deliver the goods of John Mackintosh and Sons Ltd., Huntley and Palmers Ltd.. W. and R. Jacob and Co. (Liverpool) Ltd., Peek, Frean and Co. Ltd., and Meltis Ltd.
This will involve in due course the withdrawal of certain traffic from Associated Deliveries Ltd., which is to be reorganized to cater for traffic of existing members other than those named above.
It is understood that ABMAC Deliveries will concentrate on the movement of large quantities of palletized goods.
Amicable discussions have been in progress for some time, I understand, and the announcement has been made now to discount speculation among the staff and others affected. It is stressed that during the period of reorganization there will be the closest collaboration, especially on matters affecting staff employment. J.D.