lanchester operator's new pcilities
22nd July 1966
Page 31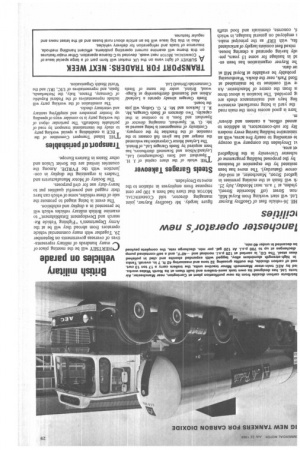 Page 31, 22nd July 1966 —
lanchester operator's new pcilities
Close
HE 36-vehicle fleet of Geoffrey Reyner Ltd. will start working from Royal Mill, ,rton Street (off Moorside Street), .ylsden, at 7 a.m. next Monday, July 25. rk will finish at the existing premises in lgeford Street, Manchester, at mid-day ,arrow (Saturday). The move has been essitated by the expansion of business by the proposed building programme of nchester University in the Bridgeford et area.
Droylsden the company will occupy te extending to nearly five acres, with an iinistrative building having every modern lity for sub-contractors, in addition to anned offices, a canteen and drivers' m.
'here is good access from the main road the yard is being resurfaced; extensive ling bays and maintenance sheds are tg provided. The location is about three !s from the centre of Manchester. An ;e will continue to be maintained at [ford Park, near the docks. Warehousing probably be available at Royal Mill at ter date.
Reyner organization has been end in haulage for some 15 years, preisly having operated a clearing house. mixed fleet consists largely of articulated fits, with ERF as the principal make. s employed on general haulage, in which A, concrete, chemicals and food stuffs
figure largely. Mr Geoffrey Reyner, joint managing director, told COMMERCIAL MOTOR that there had been a 100 per cent response from employees in relation to the move to Droyl ;den.