Washing Vans on Conveyor System
22nd July 1955
Page 63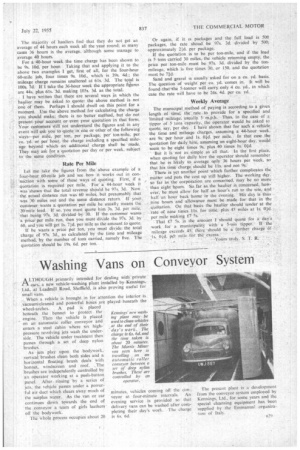 Page 63, 22nd July 1955 —
Washing Vans on Conveyor System
Close
A LTHOUGH primarily intended for dealing with private cars. a new vehicle-washing plant installed by Kennings. ltd.. at Leadmill Road, Sheffield, is also proving useful for small vans.
. When a vehicle is brought in for attention the interior is vacuum-cleaned and powerful hoses are played beneath the wheel-arches. A pad is placed beneath the bonnet to protect the engine. Then the vehicle is placed on an automatic roller conveyor and enters a steel cabin where six highpressure revolving jets wash the underside. The vehicle under treatment then passes through a set of deep nylon brushes.
As jets play upon the bodywork, vertical brushes clean both sides and a horizontal floating brush deals with bonnet, windscreen and roof. The .brushes are independently controlled by an operator working at a push-button panel. After rinsing by a series of jets, the vehicle passes under a powerful air duct which clears away much of the surplus water. As the van or car continues down towards the end of the conveyor a team of girls leathersoff the bodywork.
The whole process occupies about 20 minutes, vehicles coming off the conveyor at four-minute intervals. An evening service is provided so that delivery vans can be washed after completing their day's work. The charge is 6s. 6d. The present plant is a development from the conveyor system employed by Kennings. Ltd., for some years and the special cleansing equipment has been supplied by the Emmanual organization of Italy.