Fork Truck or Cross Country Tractor
22nd July 1955
Page 44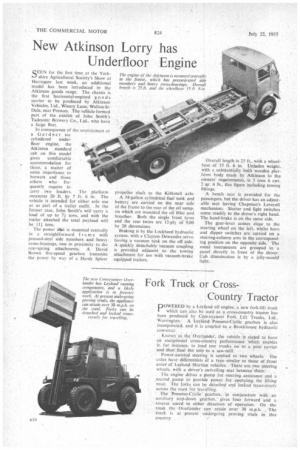 Page 44, 22nd July 1955 —
Fork Truck or Cross Country Tractor
Close
DOWERED by a Leyland oil engine, a new fork-lift truck 1 which can also be used as a cross-country tractor has been produced by Conveyancer Fork Lift Trucks, Ltd., W'arringtori.. A Leyland Prieumo.LCYClie gearbox is also incorporated and it is coupled to a .Brockhouse hydraulic converter.
Known as the Overlander, the vehicle is stated to have an exceptional cross-country performance which enables it, for instance, to load tree trunks on to a pole carrier . .
'and • then., haul the unit -to a saw-mill.
Power-assisted steering is applied to two wheels : The .axles have differentials. cif a type similar to those of front axles' of LeYland Martian vehicles. -There arc two steering wheels, with a driver's swivelling seat between...them: The engine drives a pump for steering assistance and a ,second pump to provide power for operating the lifting mast. The forks can be detached and locked transversely
across the mast for travelline, . . ,
• The .Prieutrio-Cclicgearbox. in conjunction with an -auxiliary step-down geEirbox," gives four foi..I.Vard and a
• .reverse 'speed in either direction of operation. On the road, the Overlander can attain over 30 m.p.h. The truck is at present undergoing proving trials in this country, .