40-hour Week Would be Costly
22nd July 1955
Page 42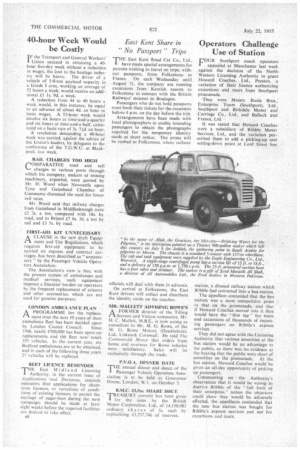 Page 42, 22nd July 1955 —
40-hour Week Would be Costly
Close
I F the Transport and General Workers' Union succeed in obtaining a 40hour five-day week without a reduction in wages, the Cost to the haulage industry will be heavy. The driver of a vehicle of 5-8-ton payload capacity in a Grade I area, working an average of 52 hours a week, would receive an additional if Is. 9d. a week. A reduction from 44 to 40 hours a week would, in this instance, be equal to an advance of about 4d. an hour in basic wages. A 52-hour week would involve six hours at time-and-a-quarter and six hours at time-and-a-half, calculated on a basic rate of 3s. 71d. an hour. A resolution demanding a 40-hour week was carried, against the advice of the Union's leaders, by delegates to the conference of the T.G.W.U. at Blackpool. last week.
COM PA RATIVE road and rail charges to various ports through which his company, makers of mining machinery, exported, were quoted by Mr. H. Wood when Newcastle upon Tyne and Gateshead Chamber of Commerce discussed the need for lower rail rates. Mr. Wood said that railway charges from Gateshead to Middlesbrough were £2 2s. a ton, compared with I8s. by road, and to Bristol £7 8s. 3d. a ton by rail and £3 5s. by road.
ACLAUSE in the new draft Equipment and Use Regulations, which requires first-aid equipment' to be carried on express and contract carriages, has been described as " unnecessary '' by the Passenger Vehicle Operators Association. The Association's view is that, with the present system of ambulanoes and medical services, such equipment imposes a financial burden on operators by the frequent replacement of scissors and other accessories, which are not used for genuine purposes.
A PROGRAMME for the replacePAmerit over the next 10 years of their ambulance fleet has been decided upon by London County Council. Since 1946, nearly £500,000 has been spent on replacements and tht fleet now' totals 335 vehicles. In the current year, six Bedford ambulances arc to be obtained, and in each of the following three years 25 vehicles will be replaced.
THE East Midland Licensing Authority, in the current issue of Applications 'and Decisions, reminds operators that applications for shortterm licences, or variations of conditions of existing licences, to permit the carriage of sugar-beet during the next campaign. should be made at least eight week S before the required facilities are desired to take effect.