LILA. Conference to be Best Ever
22nd July 1955
Page 41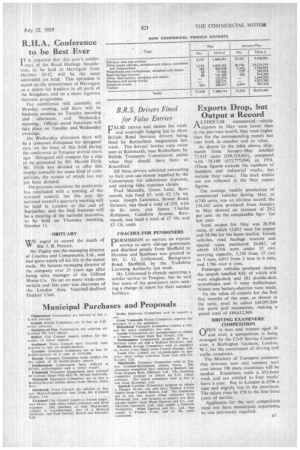 Page 41, 22nd July 1955 —
LILA. Conference to be Best Ever
Close
I T is expected that this year's conference of the Road Haulage Association, to be held at Harrogate from October 10-12, will be the most successful yet held. This optimism is
based on the convenience of Harrogate as a centre for hauliers in all parts of the Kingdom, and on a more vigorous business programme.
The conference will assemble on Monday evening, and there will be business sessions on Tuesday morning and afternoon, and Wednesday morning. Official social functions will take place on Tuesday and Wednesday evenings.
On Wednesday afternoon there will be a coneours d'elegance for delegates' ears, on the lines of that held during the conference at Torquay several years ago. Delegates will compete for a cup to he presented by Mr. Harold Firth. Mr. Firth has decided to offer this trophy annually for some kiad of competition, the nature of which has not yet been decided.
On previous occasions the conference has concluded with a meeting of the national council, but this year the national council's quarterly meeting will he held in London at the end of September, and the final business will be a meeting of the national executive, to be held on Thursday morning, October 13.
OBITUARY
WE regret to record the death of MR. J. R. PECLEY. Mr. Pegley was the managing director of Coaches and Components, Ltd., and had spent nearly all his life in the motor trade. He became managing director of the company over 25 years ago after being sales manager of the Gilford Motor Co. Ile sat on many trade committees and last year was chairman of the London Area Vauxhall-Bedford Dealers' Club,