Exports Drop, but Output a Record
22nd July 1955
Page 41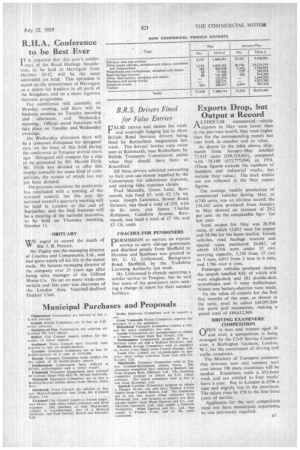 Page 41, 22nd July 1955 —
Exports Drop, but Output a Record
Close
A LTHOUGH commercial vehicle ft exports in. May were lower than in the previous month, they were higher than for the corresponding month last year both in number and in value.
As shown in the table above, shipments from January-May totalled 72,432 units (£40,514,461), compared with 58,140 (£33,777,094) in 1954. (These figures exclude the numbers of dumpers and industrial trucks, but include their value.) The dock strikes are not reflected in the May export figures.
The average weekly production of commercial vehicles during May, at 6,740 units, was an all-time record; the 134,142 units producvd. from January to May showed an increase of 29.2 per cent. on the comparable tiger for last year.
Total output for May was 26,958 units, of which 12,012 were for export and 14,946 for the home market. Goods vehicles, road haulage tractors and special types numbered 26,047, of which 14,916 were under 15 cwt. carrying capacity, 5,330 from 15 cwt. to 3 tons, 4,015 from 3 tons to 6 tons, and 1,786 over 6 tons.
Passenger vehicles produced during the month totalled 820, of which 634 were single-deck and 181 double-deck motorbuses and 5 were trolleybuses. Ninety-one battery-electrics were made.
To the value of exports for the first five months of the year, as shown in the table, must be added £44,097,899 ft t parts and accessories, making a grand total of £84,612,360.
DRIVING EXAMINERS' COMPETITION
OPEN to men and women aged 30 and over, a competition is being arranged by the Civil Service Commission, 6 Burlington Gardens, London, W.1, for the recruitment of driving and traffic examiners.
The Ministry of Transport estimates that between now and summer next year about 190 more examiners will be needed. Examiners work a 45-1-hour week and are entitled to. four weeks' leave a year: Pay in London is £596 a year and slightly less in the provinces. The salary rises by £50 in the first three years of service.
Applicants for the new competition need not have motorcycle experience, as was previously required.