In a Line or Two •
22nd July 1955
Page 39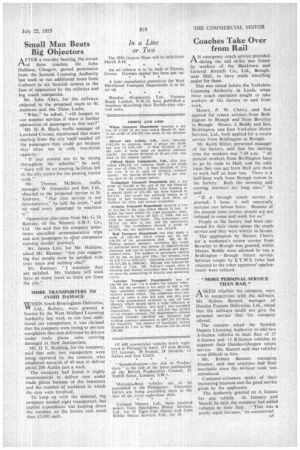 Page 39, 22nd July 1955 —
In a Line or Two •
Close
The 1956 Geneva Show will be held from March 8-18.
An oil refinery is to be built at Eleusis, Greece German capital has been put up.
A joint consultative committee for West Hartlepool Transport Department is to be set up,
Bowden (Engineers), Ltd., Victoria Road, London, N.W.10, have published a brochure describing their flexible-pipe control units.
Of 449 commercial vehicles newly registered in Portugal in April, 197 Were British, 172 German, 39 French, 24 Swedish, 13 Italian and four Czech.
" Standardization—An Aid to Productivity " i the title,of the latest 'publication of the British Productivity Council, 21 Tothill Street, London, S.W.1.
Mercedes-Benz vehicles are to be assembled in the Philippines. Chevrolet lorries are being assembled there at the rate of six every eight-hour shift.
Leyland Motors. Ltd., have received orders from Southdown Motor Services, Ltd., for 35 Tiger Cub chassis and from Ribble Motor Services, Ltd., for 16.