Coaches Take Over from Rail
22nd July 1955
Page 39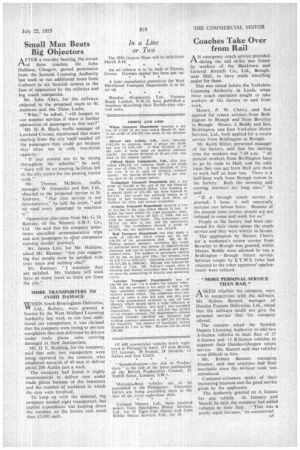 Page 39, 22nd July 1955 —
Coaches Take Over from Rail
Close
AN emergency coach service provided during the rail strike was found
by workers of the Blackburn and General Aircraft Co., Ltd., Brough, near Hull, to have made travelling easier for them.
This was stated before the Yorkshire Licensing Authority in Leeds, when three coach operators sought to take workers at the factory to and from work.
Messrs. P. W. Cherry and Son applied for return services from Bridlington to Brough and from Beverley to Brough. Messrs. J. Soddy and Son, Bridlington, and East Yorkshire Motor Services, Ltd., both applied for a return service from Bridlington to Brough.
Mr. Keith Miller, personnel manager of the factory, said that the starting time for workers was 7.30 a.m. "At present workers from Bridlington have to go by train to Hull, and the only train they can get from Hull gets them to work half an hour late. There is a half-hour walk from Brough station to the factory. Both the morning and evening journeys are long ones." he said.
"If a through coach service is granted, I hope it will materially increase our labour force. Because of the present train service, people are not induced to come and work for us."
People in the factory had been canvassed for their views about the coach service and they were wholly in favour.
The application by Messrs. Cherry for a workmen's return service from Beverley to Brough was granted, whilst Messrs. Roddy were allowed to run a Bridlington Brough return set-vice. Services sought by E.Y.M.S. (who had objected to the other operators' applications) were refused.
" MORE PERSONAL SERVICE THAN RAIL"
A SKED whether his company were r'L in competition with the railways. Mr. 'Sydney Barnett, manager of Dundee Express Deliveries, Ltd., stated that the railways could not give the personal service that his company offered.
The concern asked the Scottish Deputy Licensing Authority to add two A-licence vehicles to their fleet of 15 A-licence and 13 B-licence vehicles to augment their Dundee-Glasgow return service. Mr. Barnett said that vehicles were difficult to hire.
Mr. Robert Barnett, managing director, said that overtime had been inevitable since the 44-hour week was introduced.
Customer-witnesses spoke of their increasing business and the good service given by the applicants. The Authority granted an A licence for one vehicle. in January and March, he said, the company had added vehicles to their fleet. "That was a pretty rapid increase," he commented.