Closer Link Between Associations
22nd July 1955
Page 38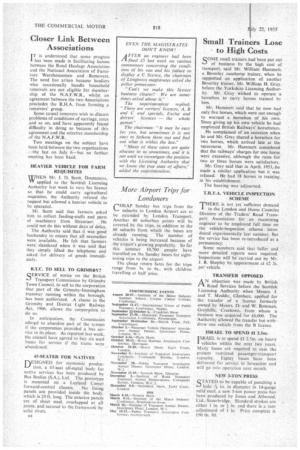 Page 38, 22nd July 1955 —
Closer Link Between Associations
Close
IT is understood that some progress I has been made in facilitating liaison between the Road Haulage Association and the National Association of Furniture Warehousemen and • Removers. The need has arisen because hauliers who occasionally handle household removals are not eligible for dumbership of the N.A.F.W.R.. whilst an agreement between the two Associations precludes the R.H.A. from forming a removers' group.
Some casual removers wish to discuss problems of conditions of carriage, rates and so on. and have apparently found difficulty in doing so because of this agreement and the selective membership of the N.A.F.W.R.
Two meetings on the subject have been held between the two organizations —the last on July 6—but no further meeting has been fixed.
HEAVIER VEHICLE FOR FARM REQUISITES WHEN Mr. J. D. Scott. Drummore. VV applied to the Scottish Licensing Authority last week to vary his licence so that he could carry agricultural requisites, the Authority refused the request but allowed a heavier vehicle to be operated.
Mr. Scott said that farmers asked him to collect feeding-stuffs and parts of machinery from Stranraer. He could not do this without days of delay.
The Authority said that it was good husbandry to ensure that all necessities were available. He felt that farmers were slandered when it was said that they simply lifted the telephone and asked for delivery of goods immediately..
B.T.C. TO SELL TO GRIMSBY?
SERVICE of notice on the British Transport Commission by Grimsby Town Council. to sell to the corporation that part of the Grimsby-Immingham tramway running within the borough, has been authorized. A clause in the Grimsby and District Light Railway Act, 1906, allows the corporation to do so.
In anticipation. the Commission offerfd to abandon part of the system if the corporation provided a bus service in its place. As reported last week, the council have agreed to buy six used buses for service if the trams were abandoned.
45-SEATER FOR NATIVES
DESIGNED for economic production, a 45-seat all-metal body for native services has been produced by Bus Bodies (S.A.), Ltd. The prototype is .mounted on a Leyland Comet forward-control chassis. No lining panels are provided inside the body, which is 29 ft. long. The exterior panels arc of sheet steel, overlapped at all joints, and secured to the framework by solid rivets.
134