Objection Withdrawn But Case Fails A LTHOUGH British Railways had
22nd July 1955
Page 37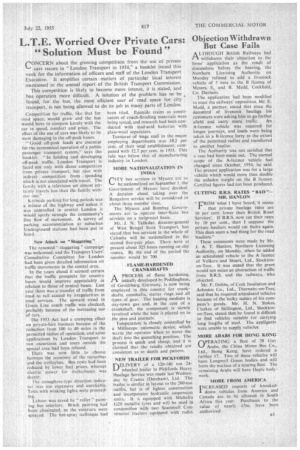 Page 37, 22nd July 1955 —
Objection Withdrawn But Case Fails A LTHOUGH British Railways had
Close
I-% withdrawn their objection to the firms' application as the result of discussions before the hearing, the Northern Licensing Authority on Monday refused to add a livestock vehicle of 5 tons to the B licence of Messrs. E. and R. Medd, Cockfield, Co. Durham.
The application had been modified to meet the railways' opposition. Mr. E. Medd, a partner, stated that since the decontrol of livestock haulage his customers were asking him to go farther afield and carry more traffic. Art A-licence vehicle was required for longer journeys, and loads were being taken in a B-licence lorry to the extent of the permitted radius and transferred to another haulier.
The Authority was not satisfied that a case had been made out. The normal scope of the A-licence vehicle had changed since October, 1954, he said. The present application was for a large vehicle which would more than double the unladen weight on the B licence. Certified figures had not been produced.
CUTTING B.R.S. RATES BAD "MR. HANLON
" L'ROM what I have heard, it seems
I that private haulage rates are 10 per cent, lower than British Road Services', If B.R.S. now cut their rates by 10 per cent., then I suppose the private hauliers would cut theirs again. This does seem a bad thing for the road hauliers.
These comments were made by Mr. J. A. 1'. Hanlon, Northern Licensing Authority, on Monday. when he added an articulated vehicle to the A licence of Volkers and Stuart, Ltd., Stocktonon-Tees. It was stated that the grant would not mean an abstraction of traffic from B.R.S. and the railways, who objected.
Mr. F. Dobbs, of Cork Insulation and Asbestos Co., Ltd., Thornaby-on-Tees, said that he required articulated vehicles because of the bulky nature of his company's goods. Mr. H. N. Stokes, Clarkcs of Stillington, Ltd.. Stocktonon-Tees, stated that he found it difficult to find vehicles suitable for carrying long lengths of steel. The applicants were unable to supply vehicles.
MORE ARABS FOR HONG KONG nPERATING a fleet of 28 Guy
Arabs, the China Motor Bus Co., Ltd., Hong Kong, have ordered a further 17. Two of these vehicles will have Longwell Green bodies and will form the nucleus of a touring fleet. The remaining Arabs will have Duple bodywork.
MORE FROM AMERICA INCREASED imports of knocked' down vehicles from America and Canada are to he allowed in South Africa this year. Purchases to the value of nearly Om. have been authorized.