Rail for Tar Out of Date, says Mr. Hanlon
22nd July 1955
Page 36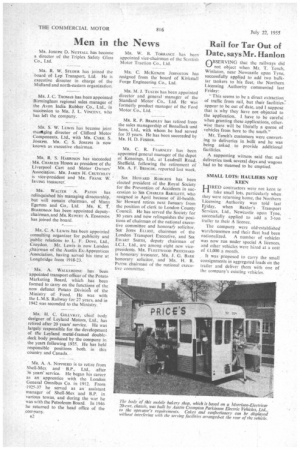 Page 36, 22nd July 1955 —
Rail for Tar Out of Date, says Mr. Hanlon
Close
OBSERVING that the railways did not object when Mr. T. Tench, Winlaton, near Newcastle upon Tyne, successfully applied to add two bulktar tankers to his fleet, the Northern Licensing Authority commented last Friday:
"This seems to be a direct extraction of traffic from rail, but their facilities! appear to he out of date, and I suppose that is why they have not objected to the application. I have to be careful when granting these applications, otherwise there will be literally a queue of vehicles from here to the south."
Mr. Tench's customers were converting to deliveries in bulk and he was being asked to plovide additional A supporting witness said that rail deliveries took several days and wagons had to be steamed to be emptied.
SMALL LOTS: HAULIERS NOT KEEN
HIRED contractors were not keen to take small lots, particularly when they were returning home, the Northern Licensing Authority was told last Firiday, when Baxter's Transport Services, Ltd.. Newcastle upon Tyne, successfully applied to add a 3-ton trailer to their A licence.
The company were old-established warehousemen and their fleet had been nationalized. A number of vehicles was now run under special A licences, and other vehicles were hired at a cost of £1,000 a month.
It was proposed to carry the small consignments in aggregated loads On the trailer and deliver them with one of the company's existing vehicles.