Men in the News
22nd July 1955
Page 36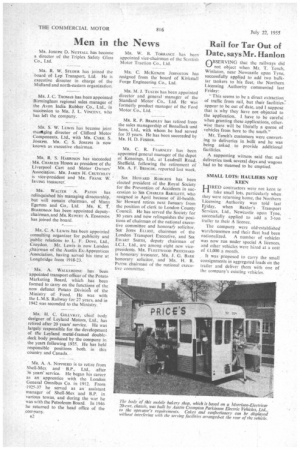 Page 36, 22nd July 1955 —
Men in the News
Close
MR. JOSEPH D. NUTTALL has become a director of the Triplex Safety Glass Co., Ltd.
MR. R. W. STUDER has joined the board of Lep Transport, Ltd. He is executive director in charge of the Midland and north-eastern organization.
MR. J. C. THOMAS has been appointed Birmingham regional sales manager of the Avon India Rubber Co., Ltd., in succession to MR. J. L. VINCENT, who has left the company.
Ma. S. W. LEWIS has become joint matitging director of Clifford Motor Components, Ltd., with MR. CYRIL S. JOSEPH. MR. C. S. JOSEPH IS now known as executive chairman.
MR. R. S. HARRISON has succeeded MR. CHARLES HINNS as president of the Liverpool Cart and Motor Owners' Association. MR. JAMES H. CRIETC'FILEY is vice-president and MR. FRANK W. IRVING treasurer.
MR. WALTER A. PATON has relinquished his managing directorship, but will remain chairman. of Mann Egerton and Co., Ltd. MR. K. f. BOARDMAN has been appointed deputychairman. and MR. RUPERT A. EDMONDS has joined the board.
MR. C. A. LEWIS has been appointed consulting organizer for publicity and public relations to L. F. Dove, Ltd., Croydon. Mr. Lewis is now London chairman of the Austin Ex-Apprentices Association, having served his time at Longbridge from 1918-23.
MR. A. WALKERDINE has been appointed transport officer of the Potato Marketing Board, which has been formed to carry on the functions of the now defunct Potato Division of the Ministry of Food. He was with the L.M.S. Railway for 27 years, and in 1942 was seconded to the Ministry, ' MR. H. C. GILLVRAY, chief body designer of Leyland Motors, Ltd., has retired after 20 years' service. He was largely responsible for the development of the Leyland metal-framed doubledeck body produced by the company in the years following 1935. He has held responsible positions both in this country and Canada.
MR. A. A. NIPPIERD is IO retire from Shell-Mex and B.P.. Ltd., after 36 years' service. He began his career as an apprentice with the London General Omnibus Co. in 1912. From 1925-37 he served as an assistant manager of Shell-Mex and B.P. in various towns, and during the war he was with the Petroleum Board. In 1946 he returned to the head office of the company. MR. W. B. TORRANCE has been appointed vice-chairman of the Scottish Motor Traction Co.. Ltd.
MR. C. MCKENZIE JOHNSTON has resigned from the board of KhIstall Forge Engineering Co., Ltd.
MR. M. J. Tust IN has been appointed director and general manager of the Standard Motor Co.. Ltd. He was formerly product manager of the Ford Motor Co., Ltd.
MR. R. P. BRADLEY has retired from Else sales managership of Bonallack and Sons, Ltd., with whom he had served for 35 years. He has been succeeded by
MR. H. D. FISHER.
MR. C. R. FEARNLEY has been appointed general manager of the depot of Kennings, Ltd., at Leadmill Road, Sheffield, following the retirement or MR. A. F. BRISCOE, reported last week.
Sin HOWARD ROBERTS has been elected president of the Royal Society for the Prevention of Accidents in succession to SIR CHARLES BARTLETT. who resigned in April because of ill-health. Sir Howard retires next January from the position of clerk to London County Council. He has served the Society for 30 years and now relinquishes the positions of chairman of the national executive committee and honora6 solicitor. SIR JOHN aura, chairman of the London Transport Executive, and SIR EWART SMITH, deputy chairman of 1.C.I.. Ltd., are among eight new vicepresidents. MR. FLEETWOOD PRITCHARD is honorary treasurer, MR. J. G. BARR honorary solicitor, and MR. H. R. PAYNE chairman of the national executive committee.
Tags
People
:
FLEETWOOD PRITCHARD
,
HOWARD ROBERTS
,
H. C. GILLVRAY
,
A. F. BRISCOE
,
R. S. HARRISON
,
CYRIL S. JOSEPH
,
CHARLES HINNS
,
A. WALKERDINE
,
RUPERT A. EDMONDS
,
C. A. LEWIS
,
H. R. PAYNE
,
W. B. TORRANCE
,
J. L. VINCENT
,
WALTER A. PATON
,
R. P. BRADLEY
,
C. MCKENZIE JOHNSTON
,
J. G. BARR
,
H. D. FISHER
,
C. S. JOSEPH IS
,
J. C. THOMAS
,
EWART SMITH
,
CHARLES BARTLETT
,
JOSEPH D. NUTTALL
,
R. W. STUDER
,
A. A. NIPPIERD
,
C. R. FEARNLEY
,
M. J. Tust