Workers Call for Fuel Tax Cut
22nd July 1955
Page 34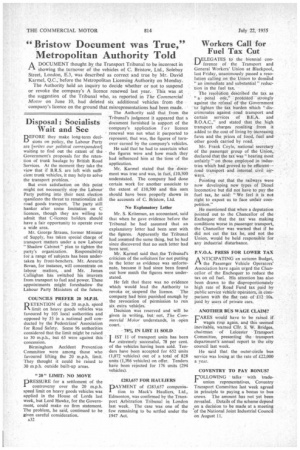 Page 34, 22nd July 1955 —
Workers Call for Fuel Tax Cut
Close
Keywords :
Transport Economics
,
Tax Reform
,
Energy Economics
,
Finance
,
Public Finance
,
Tax
,
Value Added Tax
,
Road Fund
,
Fuel Tax
,
Labor
,
Business / Finance
nELEGATES to the biennial con ference of the Transport and General Workers' Union at Blackpool, last Friday, unanimously passed a resolution calling on the Union to dcin'Ind " an immediate and substantial" reduction in the fuel tax.
• The .resoltition described the tax as "apenal otie," prOtested-. strongly against the refusal' Of the Government to lighten the tax burden Which '! dis.criminates against road transport and certain services of B.E.A. and B.O.A.C.," and stated that the high transport charges resulting from it added to the cost of living by increasing fares and the prices .of food, -fuel and other goods carried by road.
Mr. Frank Coyle, national secretary of the passenger group of the Union, declared that the tax was" bearing most unfairly "' on those employed in industries which had proved to be efficient— road transport. and internal civil airWays.
. Pointing out that the railways were now developing new types of Diesel locomotive but did not have to pay the fuel tax, he said: " We feel it is not right to expect us to face unfair competition."
He mentioned that when a deputation pointed' out to the Chancellor of the Exchequer that the tax was making conditions worse in passenger transport, the Chancellor was warned that if he did not cut the tax he, and not the Union, would be held responsible for any industrial disturbance.
P.V.O.A. PRESS FOR LOWER TAX
A NTICIPATING an autumn Budget, Z-1 the Passenger Vehicle Operators' Association have again urged the Chancellor of the Exchequer to reduce the tax on oil fuel. His attention has also been drawn to the disproportionately high rate of Road Fund tax paid by Public service ichicle operators, in comparison with the flat rate of' £ 12 '10s. paid by users Of private cars.
ANOTHER BUS WAGE CLAIM?
rARES would have to be raised if I wages rose again, and this seemed inevitable, warned CUL S. W. Bridges, chairman of Leicester Transport Committee, presenting the • transport department's annual report to the city council last week.
He said that the outer-circle bus service was losing at the rate of £22,000 a year.
COVENTRY TO PAY BONUS?
VOLLOW1NG talks with trade
union representatives, Coventry Transport Committee last week agreed in principle to paying a bonus to bus crews. The amount has not yet been revealed. Details of the scheme depend on a decision to be made at a meeting "of the National Joint Industrial Council on August 11,