Disposal Socialists Wait and See
22nd July 1955
Page 34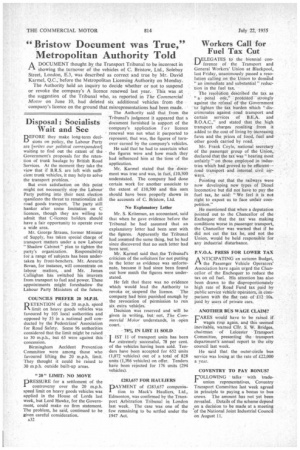 Page 34, 22nd July 1955 —
Disposal Socialists Wait and See
Close
• •
BEFORE they make long-term decisions on policy, the Labour Party are Invites our political correspondent] waiting to find out the extent of the Government's proposals for the retention of trunk haulage by British Road Services. At the moment they take the view that if B.R.S. are left with sufficient trunk vehicles, it may help to solve the transport problem.
But even satisfaction on this point might not necessarily stop the Labour Party putting into their next election anifesto the threat to renationalize all road goods transport. The party still hanker after some limitation on C licences, though they are willing to admit that C-licence holders should have a fair opportunity to operate over a wide area.
Mr. George Strauss, former Minister of Supply, has taken special charge of transport matters under a new Labour "Shadow Cabinet" plan to tighten the party's organization. Responsibility for range of 'subjects has been undertaken by front-benchers. Mr, Aneurin Bevan, for instance, will concentrate on labour matters, and Mr. James Callaghan has switched his interests from transport to fuel and power. These appointments might foreshadow the Labour Party Ministers of the future.
COUNCILS PREFER 20 M.P.H.
RETENTION of the 20 m.p.h. speed limit on heavy goods vehicles was favoured by 103 local authorities and opposed by 55 in a national poll conducted by the Pedestrians' Association for Road Safety, Some 96 authorities considered that the limit might be raised to 30 m.p.h., but 65 were against this concession.
Birmingham Accident Prevention Committee were among those who favoured lifting the 20 m.p.h. limit. They thought it could be raised to 30 m.p.h. outside built-up areas.
"20" LIMIT: NO MOVE 11()RESSURE for a settlement of the
controversy over the 20 m.p.h. speed limit on heavy goods vehicles was applied in the House of Lords last week, but Lord Hawke, for the Government, could make no firm statement. The problem, he said, continued to be given careful consideration.
A32