The Delivery Van Menace
22nd July 1955
Page 32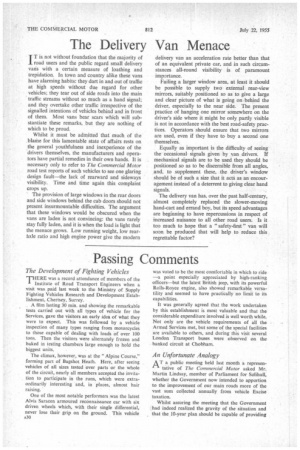 Page 32, 22nd July 1955 —
The Delivery Van Menace
Close
IT is not without foundation that the majority of road users and the public regard small delivery vans with a certain measure of loathing and trepidation. In town and country alike these vans have alarming habits: they dart in and out of traffic at high speeds without due regard for other vehicles; they tear out of side roads into the main traffic streams without so much as a hand signal; and they overtake other traffic irrespective of the signalled intentions of vehicles behind and in front of them. Most vans bear scars which will substantiate these remarks, but they are nothing of which to be proud.
Whilst it must be admitted that much of the blarne for this lamentable state of affairs rests on the general youthfulness and inexperience of the drivers themselves, the manufacturers and operators have partial remedies in their own hands. It is necessary only to refer to The Commercial Motor road test reports of such vehicles to see one glaring design fault—the lack of rearward and sideways visibility. Time and time again this complaint crops up.
The provision of large windows in the rear doors and side windows behind the cab doors should not present insurmountable difficulties. The argument that these windows would be obscured when the vans are laden is not convincing: the vans rarely stay fully laden, and it is when the load is light that the menace grows. Low running weight, low rearaxle ratio and high engine power give the modern delivery van an acceleration rate better than that of an equivalent private car, and in such circumstances all-round visibility is of paramount importance.
Failing a larger window area, at least it should be possible to supply two external rear-view mirrors, suitably positioned so as to give a large and clear picture of what is going on behind the driver, especially to the near side. The present practice of hanging one mirror somewhere on the driver's side where it might be only partly visible is not in accordance with the best road-safety practices. Operators should ensure that two mirrors are used, even if they have to buy a second one themselves.
Equally as important is the difficulty of seeing the occasional signals given by van drivers. If mechanical signals are to be used they should be positioned so as to be discernible from all angles, and, to supplement these, the driver's window should be of such a size that it acts as an encouragement instead of a deterrent to giving clear hand signals.
The delivery van has, over the past half-century, almost completely replaced the slower-moving hand-cart and errand boy, but its speed advantages are beginning to have repercussions in respect of increased nuisance to all other road users. Is it too much to hope that a " safety-first " van will soon be produced that will help to reduce this regrettable factor?