A MUNICIPAL VISIT TO THE DENNIS WORKS.
22nd July 1924
Page 8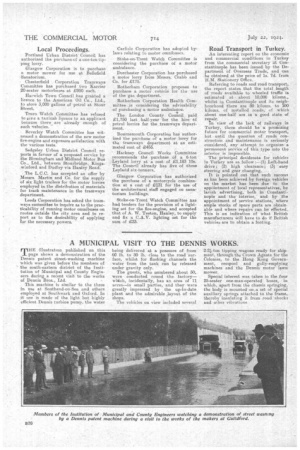 Page 8, 22nd July 1924 —
A MUNICIPAL VISIT TO THE DENNIS WORKS.
Close
MHE illustration published on this • page shows a demos stration of the Dennis patent street-washing machine which was given before the members of the south-eastern district of the Institution of Municipal and County Engineers during a recent visit to the works of Bennie Bros., Ltd.
This machine is similar to the three in use at Southend-on-Sea and others employed at Southwark and Oxford. In it use is made of the light but highly efficient Dennis turbine pump, the water being delivered at a pressure of from 60 lb. to 80 lb. close to the road surface, whilst for flushing channels the water from the tank can be released under gravity only.
The guests, who numbered about 50, were conducted round the factory— which, incidentally, has an area of 11 aares—in small parties, and they were greatly impressed by the up-to-date plant and the admirable .layout of the shops.
The vehicles on view included several 2-21-ton tipping wagons ready for shipment, through the Crown Agents for the Colonies, to the Hong Kong Government, cesspool and gully-emptying machines and the Dennis motor lawn mower.
Special interest was taken in the four 25-seater one-man-operated buses, in which, apart from the chassis springing, the body is mounted on, a set of special auxiliary springs attached to the frame, thereby insulating it from road shocks a ad other vi braaiona