COACHING ON THE BORDER.
22nd July 1924
Page 24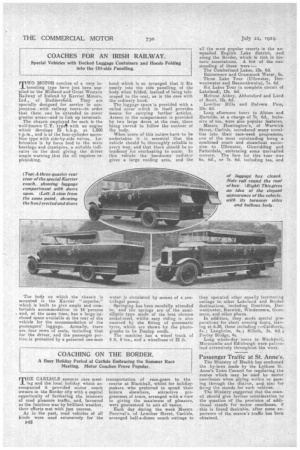 Page 24, 22nd July 1924 —
COACHING ON THE BORDER.
Close
A Busy Holiday Period at Carlisle Embracing the Summer Race Meeting. Motor Coaches Prove Popular.
mHE CARLISLE summer race meeting and the local, holiday which accompanied it provided motor coach owners in the Border city with a capital opportunity of furthering the interests of road pleasure traffic, and, favoured as the function was by brilliant vrea.ther, their efforts met with just success. As in the past, road vehicles of all kinds were used extensively for the 1142 transportation of race-goers to the coarse at Blackball, whilst for holidaymakers who preferred to spend their leisure elsewhere, attractive programmes of tours, arranged with a view to giving the maximum of pleasure, were guaranteed to suit all tastes. Each day during the week Messrs. Percival's, of Lowther Street, Carlisle, arranged half-a-dozen coach outings to
all the most popular resorts in the unequalled EngLish Lake district, and along the Border, which is rich in historic associations. A few of the outstanding of these were :— The Cumberland Lakes, 12s. 6d. . BUttermere and Crummock Water, 8s. Three Lake Tour (Ullswater, Derwentwater and 13assenthwaite), 7s. 6d. Six Lakes Tour (a complete circuit of Lakeland), 12s. fid.
Melrose Abbey, Abbotsford and Land of Scott, 12s. 6d, Lowther Hills and Dalvern Pass, 10s. 6d.
Long afternoon tours to Alston and Hartside, at a charge of 7s. 6d., inclusive of tea, were also popular features.
Messrs. Huntington's, of Warwick Street, Carlisle, introduced many novelties into their race-week programme, one of the most outstanding being a combined coach and steamboat excursion to Dllswater, Glenridding and Patterdale, embracing some unrivalled. scenery. The fare for this tour was 6s. 6d., or 7s. fid including tea, and they operated other equally fascinating outings to other Lakeland and Border destinations, including Dumfries, Derwentwater, Keswick, Windermere, Grasmere, arid other places.
In addition, they made special preparations far short evening tours, leaving at. 6.30, these including :—Ca.ldhec.k, 4s.; La-nghohn, 4s.; Silroth, 3s. 6e1.; Pooley'Bridge, 4s.
Long whole-day tours to Blackpool, Morecambe and Edinburgh were patronized extensively throughout the week.
Passenger Traffic at St. Anne's.
The Ministry of Health has' confirmed the by-laws made by the Lytham Si. Anne's Town Council for regulating .the routes which may be used by. motor omnibuses when plying within or passing through the district, and also for fixing the stands for such vehicles.
The Ministry suggested that the council should give further consideration to the question of the provision of additional stands for motor omnibuses. if this is found desirable, after some experience of the season's traffic has been obtained.