• ....... ••••••-•••• ..... COACHES FOR AN IRISH RAILWAY.
22nd July 1924
Page 24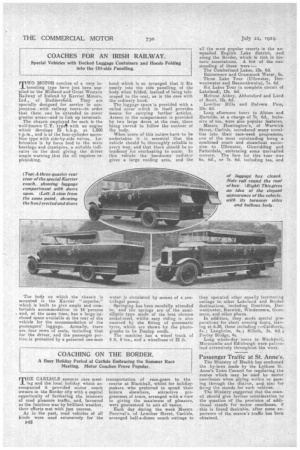 Page 24, 22nd July 1924 —
• ....... ••••••-•••• ..... COACHES FOR AN IRISH RAILWAY.
Close
Special Vehicles with Decked Luggage Containers and Hoods Folding into the Off-side Panelling.
MWO MOTOR coaches of a very in teresting type have just been supplied to the Midland and Great Western Railway of Ireland by Karrier Motors, Ltd., of Huddersfield_ They are specially designed for service in conjunction with railway tours—in order that these can be extended to cover greater areas—and to link up terminals.
The chassis employed for each is the well-known C.Y. typet, with an engine which develops 25 b.h.p. at 1,000 r.p.m., and is of the four-cylinder monobloc type with side-by-side valves. Lubrication is by force feed to the main bearings and crankpins, a suitable indicator on the dash giving the driver ample warninuthat the oil requires replenishing.
The body on which the chassis is mounted is the Karrier " superbe," which is built to give ample and comfortable accommodation to 16 persons and, at the same time, has a large enclosed space available at the rear of the vehicle for the accommodation of the passengers` luggage. Actually, there are four rows of seats, including that for the driver, and the passenger portion-is protected by a patented one-man hood which is so arranged that it fits neatly into the side panelling of the body when folded, instead of being telescoped to the rear, as is the case with the ordinary hood.
The luggage space is provided with a railed cover which in itself provides means for carrying farther articles. Access to the compartment is provided by two large doors at the rear, these being curved to follow the contour of the body.
When tours of this nature have to be undertaken it is essential that the vehicle should be thoroughly reliable in every way, and that there should be no tendency for overheating to occur. In this vehicle the handsome radiator gives a large cooling area, and the water is circulated by means of a centrifugal pump. Springing has been carefully attended to, and the springs are of the semielliptic type made of the best chrome nickel-steel, whilst easy riding is also ensured by the fitting of pneumatic tyres, which are shown by the photographs to be Dunlop cords. The machine has a wheel track of 4 ft. S ins., and a wheelbase of 12 ft.