PASSENGER TRAVEL NEWS.
22nd July 1924
Page 23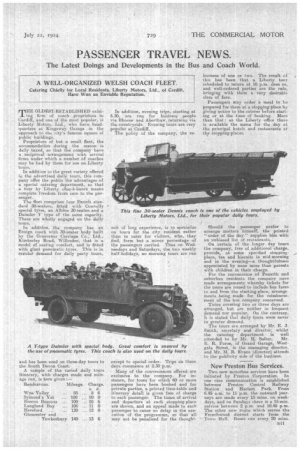 Page 23, 22nd July 1924 —
PASSENGER TRAVEL NEWS.
Close
The Latest Doings and Developments in the Bus and Coach World.
A WELL-ORGANIZED WELSH COACH FLEET,
Catering Chiefly for Local Residents, Liberty Motors, Ltd., of Cardiff, Have Won an Enviable Reputation.
MHE OLDEST-ESTABLISHED exist ing firm of coach proprietors in Cardiff, and one of the most popular, is Liberty Motors, Ltd., who have headquarters at Kingsway Garage in the approach to the city's famous square of public buildings.
Proprietors of but a small fleet, the accommodation during the season is daily taxed, so that the company have a reciprocal arrangement with several firms under which a number Of coaches may be had by them for use on Liberty tours.
In addition to His great variety offered in the advertised dailY tours, this company offer the public the advantages of a special catering department, so that a tour by Liberty char--banes means complete freedom from care to the passenger.
The fleet comprises four Dennis standard 30-seaters, fitted with Connolly special tyres, an Albion 30-seater and a Daimler I type of the same capacity. These are wholly engaged on the daily tours.
rn addition, the company has an Enaign coach with 30-seater body built by the Grosvenor Carriage Co., Ltd., Kimberley Road, Willesden, that is a model of seating comfort, and is fitted with giant pneumatic tyres. This is in reaular demand for daily party tours, and has been used on three-day tours to the South Devon Coast.
A sample of the varied daily tours itinerary, with charges made and mileage run, is here given :— Rendezvous. Mileage. Charge.
s. d, Wye Valley 85..86 Symonds Vat 100 10 0 Brecon Beaeoas 100 10 6 Langland Bay 106 ... 11 0 Hereford 120 12 0 Gloucester and Tewkesbury 140 13 6 In addition, evening trips, starting at 6.30, are run for business people via Rhoose and Aberthaw, returning via the countryside. Evening tours are very popular at Cardiff.
The policy of the company, the re snit of long experience, is to specialize on tours for Use city resident rather than to cater for visitors, who, they find, form but at minor percentage of the passengers carried. Thus on Wednesdays and Saturdays, the two weekly half-holidays, no morning tours are run except to special order. Trips on these days commence at 2.30 p.m.
Many of the conveniences offered are exclusive to the company. For instance, for tours for which 60 or more passengers have been booked and for private parties, a printed time-table and itinerary detail is given free of charge to each passenger. The times of arrival and departure at each stopping-place are shown, and an appeal made to each passenger to cause no delay in the execution of the programme, so that all may not be penalized for the thought
lessness of one or two. The result of this has been that a Liberty tour scheduled to return at 10 p.m. does so, and well-ordered parties are the role, bringing with them a very desirabla class of fare.
Passengers may order a meal to ba prepared for them at a stopping-dace by giving notice to the-caterer 'before starting or at the -time of booking. More than that : at the Liberty office there is available the menu for the day at the principal hotels and restaurants at the stopping-places.
Should the passenger prefer to arrange matters himself, the printed " order of the day" supplies him with on unbiased list of restaurants.
On certain of the longer day tours the company, free of additional charge, provide, at some specified stoppingplace, tea and biscuits in mid-morning and in the evening—a thoughtfulness appreciated by none more than parents with children in their charge.
For the convenience of Penarth and suburban residents the company nave made arrangements whereby tickets for the tours are issued to include bus fares to and from the starting-place, arrangements being made for the reimbursement of the bus company concerned.
Tours covering two or three days are arranged, but are neither in frequent demand nor popular. On the contrary, it is stated that daily tours were never in greater demand.
The tours are arranged by Mr. E. J. Smith, secretary and /Erecter, whilst the catering department is well attended to by Mr. H. Salter. Mr. E. R. Force, of Grand Garage, Westgate Street, is the managing director, and Mr. M. R. Evans (director) attends to the publicity side of the business.
New Preston Bus Services.
Two new motorbus services have been initiated by Preston Corporation. In one case communication is established between Preston Central Railway Station and Haslaan Park. From 6.45 a.m. to 11 p.m. the outward journeys are made every 15 mins. on weekdays, and on Sundays there is a 15-mirt. service between 2 p.m. and 10.45 p.m. The other new route which serves the Frenehwood district starts from the Town Hall. Buses 11111 every 20 mina.