OVERSEAS ELECTRICAL ENGINEERS AT CHISWICK.
22nd July 1924
Page 18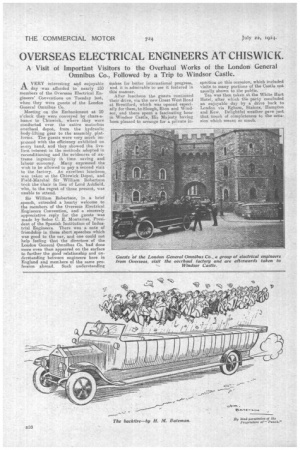 Page 18, 22nd July 1924 —
OVERSEAS ELECTRICAL ENGINEERS AT CHISWICK.
Close
A Visit of Important Visitors to the Overhaul Works of the London General Omnibus Co., Followed by a Trip to Windsor Castle.
AVERY interesting and enjoyable day was afforded to nearly 150 members of the Overseas Electrical Engineers' Conventions on Tuesday last, when they were guests of the London General Omnibus Co.
Meeting on the Embankment at 10 o'clock they were conveyed by chars-abanes to Chiswick, where they were conducted over the entire motorbus overhaul depot, from the hydraulic body-lifting gear to the assembly platforms. The guests were very much impressed with the efficiency exhibited on over hand, and they showed the liveliest interest in the methods adopted in reconditioning and the evidences of extreme ingenuity in time saving and labour economy. Many expressed the wish to be allowed to pay a second visit to the factory. An excellent luncheon was taken at the Chiswick Depot, and Field-Marshal Sir William Robertson took the chair in lieu of Lord Ashfield, who, to the regret of those present, was unable to attend.
Sir William Robertson, in a brief speech, extended a hearty welcome to the members of the Overseas Electrical Engineers Convention, and a sincerely appreciative reply for the guests was made by Seiftor C. E. Montaines, President of the Spanish Institution of Industrial Engineers. There was a note of friendship in these short speeches which was good to the ear, and one could not help feeling that the directors of the London General Omnibus Co. had done more even than appeared on the surface to further the good relationship and understanding between engineers here in England and members of the same profession abroad. Such understanding makes for better international progress, and it is admirable to see it fostered in this manner.
After luncheon the guests continued their drive, via the new Great West Road at Brentford, which was opened especially for them, to Slough, Eton and Windsor, and there spent a fascinating hour in Windsor Castle, His Majesty having been pleased to arrange for a private in
spection on this occasion, which included visits to many portions of the Castle not usually shown to the public.
Tea was then taken at the White Hart Hotel, after which the party Concluded an enjoyable day by a drive back to London via Egham, Staines, Hampton and Kew. Delightful weather gave just that touch of completeness to the occasion which meant so much.